Mastering early reading concepts is important for emerging readers. Use these free printable CVC resources to practice with your little one.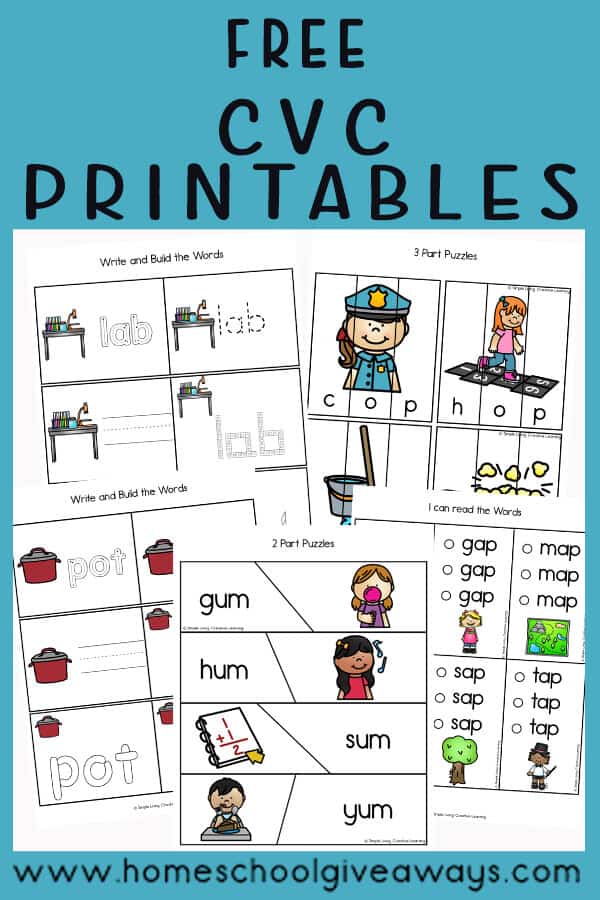 CVC words are simple, three-letter words that have the same "consonant-vowel-consonant" pattern. These are a few examples of common CVC words:
– car
– dad
– sit
– hop
– mat
These words are easy to read and to build for beginners. The first words children learn to read are usually CVC words.
There are lots of ways to practice CVC words. Clip cards, puzzles, cut-and-paste activities, and matching cards are a few fun activities.
This collection of CVC printables has a variety of themes and styles for you to offer your child. Grab a bunch of these pages, because, after all, isn't variety the spice of life?
Cut and match activities help your child build CVC words one letter at a time. Pictures on each card help prompt your child to find the matching cards.
You can choose from sets where a specific vowel is in every word. For example, "a" CVC words might be "dad" or "pan."
Construction and western themes could easily go along with social studies lessons.
Beach-themed CVC activities are perfect for summertime review!
Grab more free CVC printable activities below:
CLICK HERE for hundreds of free homeschool printables
Be sure to follow the Free Homeschool Printables and Worksheets board on Pinterest!
Be sure to follow the Free Homeschool Printables and Worksheets board on Pinterest!
The following two tabs change content below.
Jeannette is a wife, mother and homeschooling mom. She has been mightily, saved by grace and is grateful for God's sovereignty throughout her life's journey. She has a Bachelor in English Education and her MBA. Jeannette is bi-lingual and currently lives in the Tongan Islands of the South Pacific. She posts daily freebies for homeschoolers!
Latest posts by Jeannette Tuionetoa (see all)