This is a post by Free Homeschool Deals contributor, Lauren at Mama's Learning Corner.
If you're looking for learning activities for your young ones that don't involve using a pencil, these Dab It! worksheets will be the perfect fit!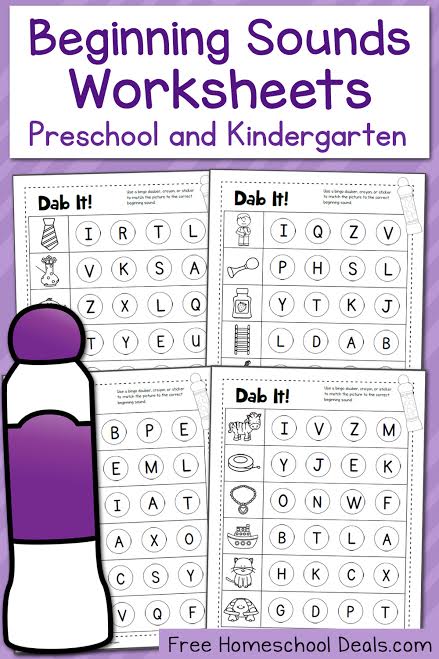 This post contains my referral link which helps support the work of this site. Here's my full disclosure policy.
While it's important for early learners to practice fine motor skills using a pencil, there are times when they need to practice concepts in other ways.
Using Do-A-Dot markers are a wonderful alternative!
Dab It! Beginning Sounds Worksheets
This set of Dab It! Worksheets focuses on matching pictures to their beginning sounds. Your child looks at each picture and then identifies the beginning sound with their Do-a-Dot Markers.
You'll find 5 pages of beginning sound activities, with all 26 letters identified including a few letters repeated.
If you don't have Do-a-Dot markers, you can certainly use small stickers, or even color in the circle with crayons or markers. If you'd like to use these same worksheet pages over and over, just place in a page protector and use beans or M&Ms or some other fun object to mark the correct answer.
Just print and go!
Before you download your free pack you agree to the following:
This set is for personal and classroom use only.
This printable set may not be sold, hosted, reproduced, or stored on any other website or electronic retrieval system.
All downloadable material provided on this blog is copyright protected.
More Dab It! and Beginning Sounds Worksheets
You might also be interested in these other Dab It! and Beginning Sounds Worksheets:
→ Dab It! Alphabet Worksheets – Matching Lower and Uppercase
→ Dab It! Alphabet Worksheets – Matching Upper and Lowercase
→ Dab It! Addition Worksheets – with sums to 6
→ Dab It! Subtraction Worksheets
CLICK HERE for more free instant downloads!
The following two tabs change content below.
Latest posts by Lauren Hill (see all)