Does your family love butterflies? Mine do! They are truly majestic and come in so many amazing colors. If you are studying all about butterflies this year, then these free butterfly life cycle worksheets will help your kids learn about their life cycles.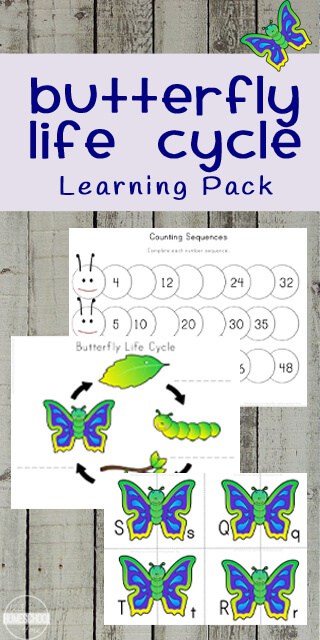 Butterflies have four-part life cycles that are captured in the worksheets. Along with the life cycles, the worksheets contain fun and educational math and literacy worksheets as well.
Butterflies just catch our attention whenever we see them fly by, kids will love learning about where the butterflies come from and what they looked like in each of their life cycles.
Don't forget to teach your little ones cool and fascinating facts about butterflies like butterflies tasting with their feet or that butterflies live on an all-liquid diet.
Butterfly themes in learning are always a hit with the little ones. This particular resource is a 61-page learning pack that includes 3-part cards, I Spy, counting puzzles, counting cards, and more.
Grab more butterfly-themed printable resources for your kids to learn with.
The following two tabs change content below.
Jeannette is a wife, mother and homeschooling mom. She has been mightily, saved by grace and is grateful for God's sovereignty throughout her life's journey. She has a Bachelor in English Education and her MBA. Jeannette is bi-lingual and currently lives in the Tongan Islands of the South Pacific. She posts daily freebies for homeschoolers!
Latest posts by Jeannette Tuionetoa (see all)