Your preschoolers and kindergarteners will enjoy addition math practice with these FREE spring butterfly addition mats. These addition mats with a butterfly-theme will help your kids review or practice adding to 10.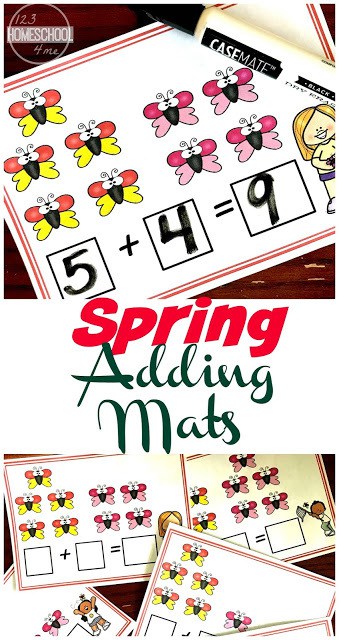 Some kids figure out number sense with no issue. Other kids need a little extra help to get them through. Adding mats are a great tool to get kids adding by counting with different objects, not just numbers.
Butterflies are adorable objects to learn with. I have a crazy butterfly story and not sure if I should share it. I will make it quick. My son, daughter and I were taking a walk back home.
We saw this beautiful butterfly fly by us. It was a beautiful color purple. My daughter and I stopped in awe. It flew down to almost the ground and… without even a second to spare my son stomped on that thing like it was a roach.
My daughter and I were heartbroken and yelled at him after a long silence of shock. My daughter nearly cried. Of course, I had a talk with him about God's creation even to the smallest of creatures. Poor thing, he didn't think it was such a horrible thing.
He never killed a butterfly ever again. There, I am sorry. It was devastating. If you have little boys, have that talk with them before a Stompgate happens.
Grab more butterfly resources for FREE below:
The following two tabs change content below.
Jeannette is a wife, mother and homeschooling mom. She has been mightily, saved by grace and is grateful for God's sovereignty throughout her life's journey. She has a Bachelor in English Education and her MBA. Jeannette is bi-lingual and currently lives in the Tongan Islands of the South Pacific. She posts daily freebies for homeschoolers!
Latest posts by Jeannette Tuionetoa (see all)