These are wonderful and adorable flower themed math worksheets made for your students to use to help your kids have fun while learning at the same time.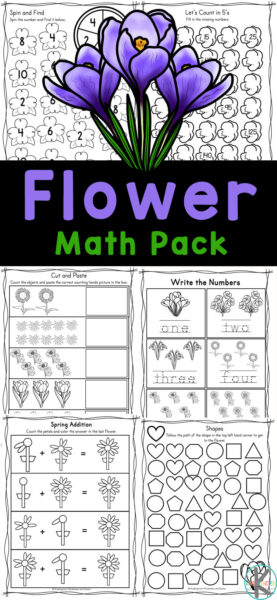 These are the perfect math worksheet pages for your younger students in kindergarten through second grade to be able to use for learning and review purposes for learning in the comfort of their own home, or printing to use to teach a classroom full of students who are learning together.
The flower theme math worksheet pages are pretty adorable and fun for your kids to look forward to and enjoy doing so that they aren't easily bored with doing math homework.
Get your favorite colored crayons, markers, and colored pencils together to be able to have fun coloring and decorating these fun and free printable flower themed math worksheet pack after solving the problems on the pages. All of the pages come out printed in black and white.
Activities that you will find included with this free printable flower themed math worksheet pack are counting by ones, twos, and fives. Your kids will also have fun counting different pictures on the pages and coloring the correct numbers.
Check out these links below for more free printable math worksheets.
The following two tabs change content below.
Latest posts by Isa Fernandez (see all)