Have fun while learning at the same time this February with these excellent free printable, easy, and fun coloring pages and activities for kids of multiple ages to be able to enjoy together.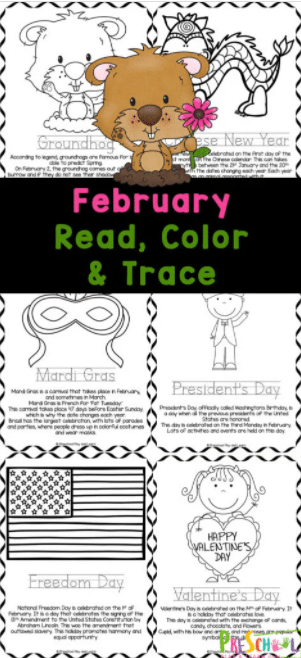 These free printable coloring worksheets are perfect for starting your February off right with these pages that include Groundhog Day, Chinese New Year, black history month, and much more for your kids to be able to enjoy learning while having fun at the same time.
It's best recommended that if you have the option to, laminate the coloring pages after you print them out for free and have your children finish coloring them. When you laminate the pages they get to last longer and have better durability.
These are the perfect low preparation activity coloring pages that are free to print out to take with you to do anywhere. You can add these easy free printable worksheets to your daily lesson study plans for teaching at home or you can use them in a classroom or co-op full of students too.
Other coloring page themes include Mardi Gras, President's Day, and Valentine's Day. Your kids can use these free printable coloring page activity worksheets to work on building their fine motor skills.
Check out these links below for more free printable coloring pages.
The following two tabs change content below.
Latest posts by Isa Fernandez (see all)