Help your kids pay attention to learning important history lessons by making it more fun with coloring pages. Enjoy these free printable WWII history lessons with important informational pages to read and also WWII themed coloring pages to help engage your kid's attention span for learning.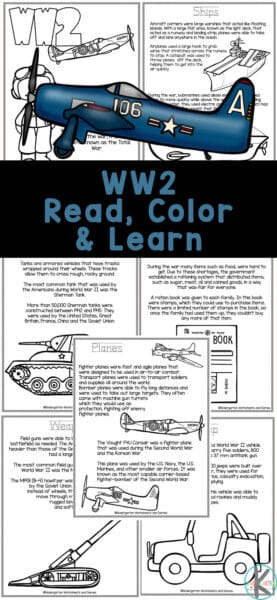 Learning about historical events is very important. Help your students learn more about what happened in WWII, what caused it, and how it ended, with these free printable WWII coloring activity worksheets that you can print for free to use at home or in a classroom full of students.
Watcha and let your kids pick out their favorite colored crayons, markers, or colored pencils to use to color and decorate these free printable WWII coloring and activity pages for kids.
Your kids will look forward to learning new things when you keep it fun and entertaining for them. They are more likely to remember what they learn when they are engaged in a fun easy hands on learning activity such as educational coloring pages.
These are the perfect free printable educational coloring pages for your kids to take with you and use anywhere. They teach the dates of WWII, talk about the different ships used, some of the weapons used, and more.
Check out these links below for more free printable coloring pages.
The following two tabs change content below.
Latest posts by Isa Fernandez (see all)