Enjoy being able to give your kids this super fun and free printable back to school word search page.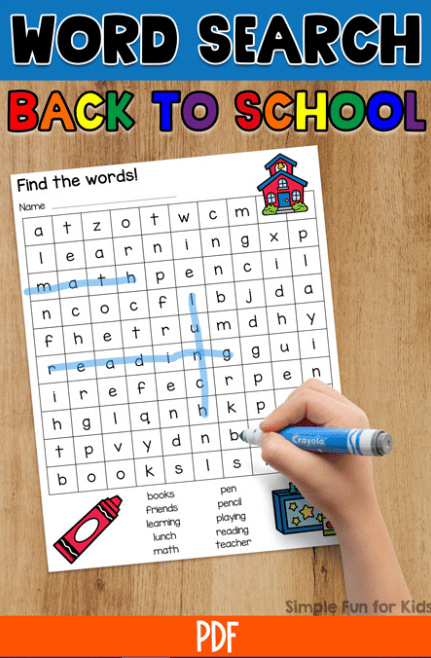 This is a super easy free download to be able to print, back to school themed word search that you can use add to your current study lesson plans for starting school again this year.
Word searches are fun for kids of multiple ages and grades to be able to use for making learning fun. Word searches are great practice for multiple reasons.
When kids play with word search pages it helps your kids who are beginning to learn how to spell as they get to look for words spelled out and hidden in a jumble of random letters. While looking for the hidden words, kids strengthen their letter recognition skills and practice sounding out letters in words.
There are three pages included in this free printable back to school themed word search pack. The three pages are a colored picture version of the word search, a black and white version of the word search, and an answer key to use just in case your kids get stuck somewhere.
All of the words in this word search are fairly easy to spell and read words for your students to be able to find, and they are all back to school related.
Check out these links below for more free printable word searches.
The following two tabs change content below.
Latest posts by Isa Fernandez (see all)