This fun and free printable CVC word search game for kindergartners is great for helping your younger students who are showing an interest in learning how to read starting with easier CVC words.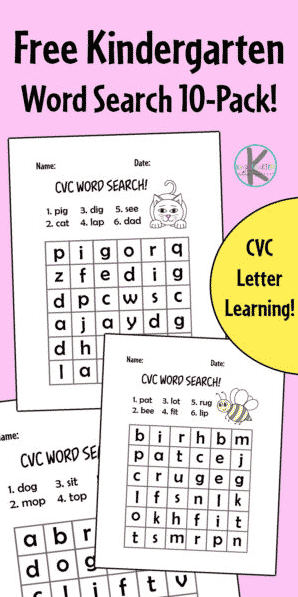 Teach and learn new easy CVC words with your students. These fun and free printable CVC word search worksheets are great to use for your kids who are learning at home or in a classroom.
CVC words are words that have three sounds and are always spelled with a three letter consonant/vowel/consonant pattern. For example, cat, dog, and bug would all be CVC words.
Learning CVC words helps kids build strong reading skills early on. Knowing CVC words helps kids better understand sentences when they start to read more. CVC words help decode sentences and break it down making it easier for the kids to learn and understand.
In addition to challenging your kids to try to read new and easy CVC words, this fun and free printable CVC word search learning activity game also helps your kids with their problem solving abilities.
These pages print in black and white so that give your students opportunities to be able to color in the worksheets after they are done solving the word search for more fun.
Check out these links below for more free printable CVC learning worksheets.
The following two tabs change content below.
Latest posts by Isa Fernandez (see all)