Thanksgiving in America and the traditions, history, and celebrations are familiar to all of us who live here. Find out how other cultures celebrate the day with this around the world Thanksgiving book.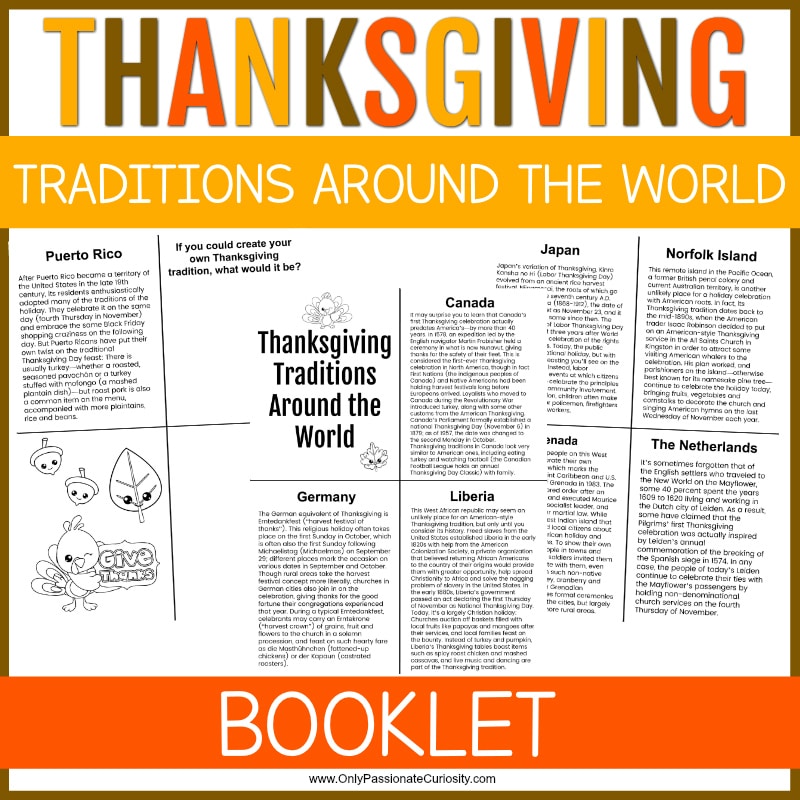 Have you ever wondered if other countries celebrate Thanksgiving and, if so, why? Take a look at some of these places and the stories behind the Thanksgiving holiday in each culture.
This printable booklet gives a short excerpt about eight different locations around the world and what Thanksgiving is like there. Each celebration is as unique as the culture it comes from.
To enhance this activity, you might do an internet search for each location to find images that depict the culture. Your child might enjoy comparing the differences and learning about what makes each culture unique.
Try researching traditional dishes from each culture and choosing one to try with your family. Your children might be surprised to find that they like something new and different.
There are many ways to learn about and experience Thanksgiving in our culture and others.
Find more resources for learning about Thanksgiving.
The following two tabs change content below.
Jeannette is a wife, mother and homeschooling mom. She has been mightily, saved by grace and is grateful for God's sovereignty throughout her life's journey. She has a Bachelor in English Education and her MBA. Jeannette is bi-lingual and currently lives in the Tongan Islands of the South Pacific. She posts daily freebies for homeschoolers!
Latest posts by Jeannette Tuionetoa (see all)