This post is from contributor Judy Hoch. Originally published Aug. 2013.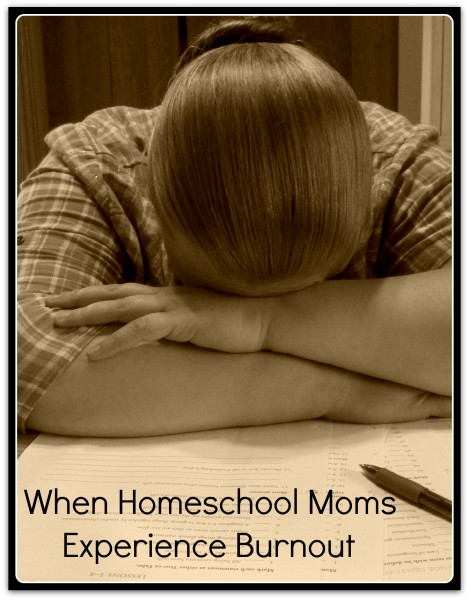 If you've been homeschooling for any length of time, you have probably experienced a season of burnout. Many (if not all) homeschool moms will deal with times when pressures build and enjoyment of homeschooling wanes.
So what exactly is homeschool burnout? Just as each person is an individual, so homeschool burnout can take on many forms for different people:
feeling overwhelmed, overworked, and exhausted
lacking interest in anything related to homeschooling
discouragement over what seems like failure in homeschooling
desperately needing some time away from lessons and projects
feeling like homeschooling is a burden that must be endured
If you are in the midst of one of those trying homeschool seasons, take heart. Remember that seasons come and seasons go, and brighter days are just ahead.
Three Ways to Overcome Homeschool Burnout
1. Take a break from homeschooling.
One of the best things to do when you feel burned out is to step away for a while. Take a week or two completely off from homeschooling, if you can.
If you can't take time off due to state requirements or other situations, cut back to the basics and eliminate the extras. A week or two spent focusing on only the three R's may be just what you need to refresh and get you back into your homeschooling groove.
2. Change your normal routine.
If you can't take a complete break from homeschooling, find some ways to change your normal routine. Are you normally textbook-oriented homeschoolers? Try taking a few field trips or spending time on interest-led learning at the library. Do you usually spend hours on creative projects and hands-on learning? Give you child a few worksheets to complete independently instead.
Think creatively and find simple ways to get away from your normal homeschool routine. You may be pleasantly surprised to find that breaking the boredom will rejuvenate both you and your children!
3. Carve out some "mom time."
Sometimes the root of the burnout problem is not actually homeschooling itself–it's simply that mom is overtired and needs some rest and relaxation.
Most homeschool moms are wearing an incredible number of hats these days: chauffeur, laundress, housekeeper, baby tender, gardener, nurse, teacher, and the list goes on. We pride ourselves on juggling our myriad responsibilities, but sometimes we just need to recognize that fact that we are human.
Throw away the to-do list for a few days, and instead take some time to read a book or go shopping with a friend. Enlist your husband to give you an evening off, or trade an afternoon of baby-sitting with another mom. Forget about the dishes just once and go to bed early instead.
It may seem counter-productive to take time off from homeschooling or household chores, but taking time to relax and rest will repay you with renewed motivation and energy to continue your journey as a homeschool mom.
Have you experienced homeschool burnout? Have you found ways to overcome it?
The following two tabs change content below.
Latest posts by Judy Hoch (see all)