This post is from contributor, Judy Hoch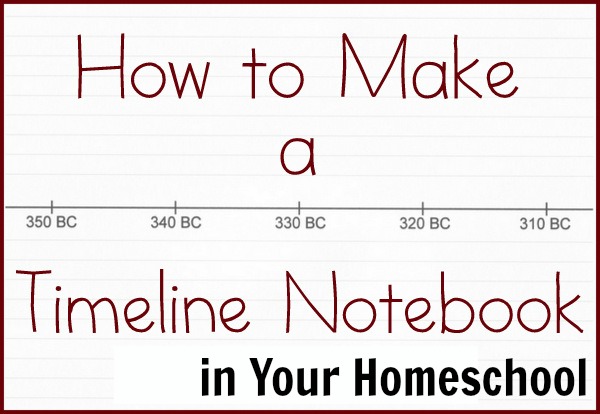 A timeline is a valuable tool to help children learn and visualize history. If you want to begin a timeline but don't have enough space for a wall timeline, you may find that a timeline notebook would be a great option for your family.
This post contains affiliate links.
How to Make a Timeline Notebook
Supplies needed:
3-ring binder – Choose the size of your binder based on how many years you plan to include in the timeline notebook. Keep in mind that while a one-inch binder holds approximately 100 sheets of paper, it will hold fewer pages when using thicker cardstock. I recommend a heavy-duty binder to be sure that it will hold up to plenty of use.
Page protectors – Page protectors make it a cinch to slide pages out in order to view them as a continuous picture of history. If you prefer not to use page protectors, you can simply punch holes in the cardstock pages instead.
White cardstock – Plain white cardstock is very inexpensive and can be found in the office supply section of most department stores.
Assembly:
Print the timeline notebook pages for the dates desired. I highly recommend one-sided printing, so that the timeline pages can be pulled out and laid end to end for a great visual picture of history.
Insert pages into page protectors (or simply punch with a 3-hole punch) and put into the binder.
Optional ideas:
Encourage your child to draw or design a special cover for the front of the binder.
If you are making one large timeline notebook covering all of history, you may want to use dividers to separate the timeline notebook into historic periods.
Include a pencil bag at the front of the binder to hold supplies: colored pencils, scissors, and timeline figures that are waiting to be added to the notebook.
What tips do you have for making a timeline notebook?
The following two tabs change content below.
Latest posts by Judy Hoch (see all)