Take a look at these various different subject themed educational posters that are totally free for you to print and add to your current lesson plans in school this year.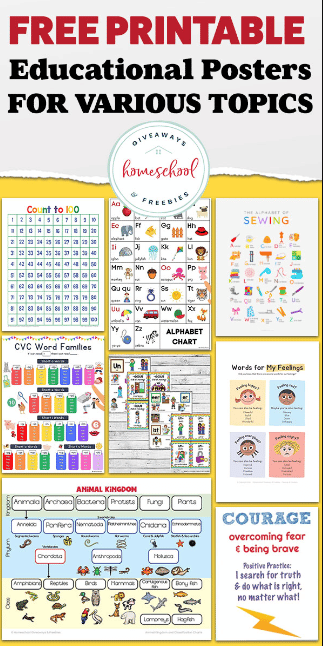 Included with this free printable pack of educational posters are learning posters for kids about the animal kingdom, a number chart from 1-100, a sewing poster for home education class, an alphabet chart, and so much more for you to have fun picking and choosing from!
These posters are totally easy and free for you to print out and hang all over your classroom whether that classroom is inside of your home, or in a school building. These free to print educational posters are helpful for multiple different grades and subjects in school, find what works for you in this free printable pack!
My best recommendation is to laminate these pages into posters if you have the ability to or frame them for optimal use and better durability to last a longer time. If you laminate the page or not you can get sticky poster tabs to put on the back for hanging on the wall for a look that leaves no damage behind!
Check out these links below for more free printable posters for school.
The following two tabs change content below.
Latest posts by Isa Fernandez (see all)