Make doing math fun for your kids in kindergarten class by using these super helpful and free to print Thanksgiving themed math worksheets for extra practice.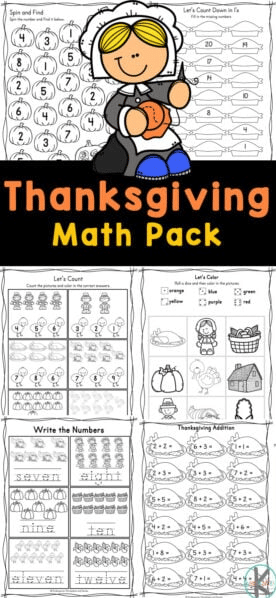 There are multiple different kinds of math learning activities that are included in this free printable Thanksgiving themed math worksheet pack for your younger students in preschool, pre-k, kindergarten, and early elementary grades.
Practice tracing numbers one through thirty-seven, counting by ones, twos, and fives, and count and color correct corresponding numbers.
These Thanksgiving themed free to print super helpful math worksheet packs are fantastic to download easily and add them to be apart of your current math lesson plans in school this year just to have as a little extra practice. You can use multiple worksheets in a day or space them out by using one a day.
There's nothing wrong with a little extra practice, especially if your child shows they might be struggling a little bit in school, then free printable learning activities sound like the way to go for you!
All of these Thanksgiving free printable math worksheets for kindergartners print out in black and white which saves you money with your printer, as well as giving your kids an opportunity to have fun coloring and decorating these pages after filling them out.
Check out these links below for more free printable math worksheets.
The following two tabs change content below.
Latest posts by Isa Fernandez (see all)