Practice addition and subtraction abilities with this wonderful fun and free printable math game for kids.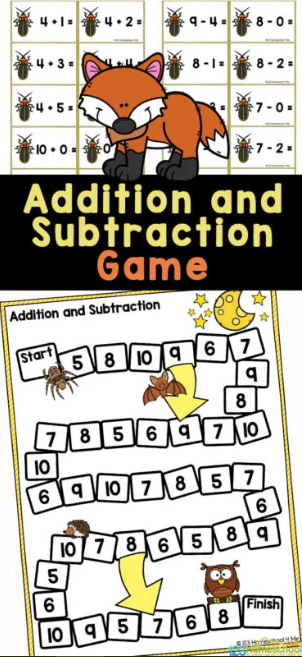 Your younger students in preschool, pre-k, kindergarten, and early elementary grades are going to love and absolutely have so much fun with this free to print addition and subtraction game.
A great way to get kids to practice their math skills is by turning into a fun game for them to look forward to be able to doing. Using a laminator machine if at all possible for these repeated uses free printable learning games is highly recommended for better durability.
This fun and free printable addition and subtraction game focuses more specifically on numbers one through ten for your students to be able to practice counting up and down with.
This is a great free printable learning game that is super easy to download to add to your current math study lesson plans, whether you're teaching your kids one on one from being in the comfort of your own home, or you're in charge of teaching a classroom full of children who are all learning together in a school, these worksheets are the best thing for you to have.
Check out these links below for more free printable math worksheets.
The following two tabs change content below.
Latest posts by Isa Fernandez (see all)