Enjoy learning all about Thailand with these helpful and free printable Thailand related worksheets.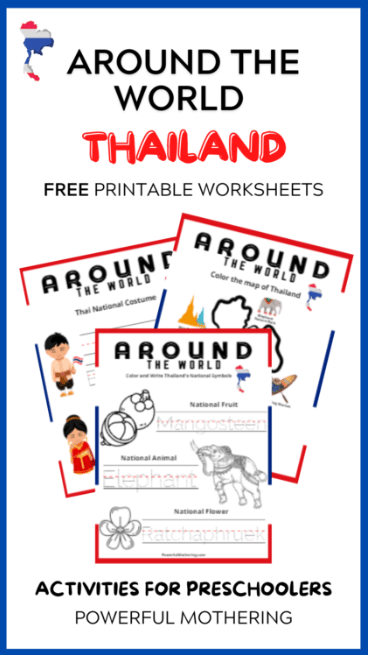 These are great free printable Thailand related worksheet pages to be able to have to print out and add to a Thailand or Asia unit study you have, or just to be apart of your geography lesson plans in school this year.
For your kids and students who love to travel or even just learning about new places and cultures, these Thailand themed free printable worksheets are the perfect thing for your students all the way from preschool through middle school.
These wonderful free printable and educational Thailand themed worksheet pages will teach your kids all about Thailand's national flag, what symbols mean, their language, a map of the country, and much more for your kids to get excited learning about.
This free printable learning activity set of Thailand related worksheets is super great for being low preparation required and leaving no mess behind to clean up afterwards. All that you will need to have to enjoy doing these pages is a printer machine, printer paper, and writing utensils such as pens or pencils.
These pages are great for using for teaching your kids at home, or if you're in charge of a large classroom full of students who are all learning at the same time.
Check out these links below for more free printable geography pages.
The following two tabs change content below.
Latest posts by Isa Fernandez (see all)