Check out these subtraction practice worksheets that you get to print out for free to be able to give to your kids as a little extra help in their current study lesson plans for learning math this year in school.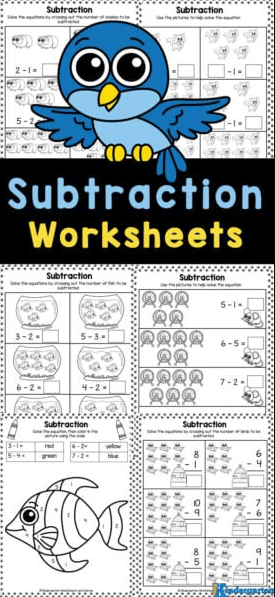 Make learning how to do subtraction easier and more fun for your kids with these help of these super easy and free to print and use subtraction practice worksheets with pictures.
Kids are going to love all of the different themes in these subtraction worksheets and the fact that they get to have fun coloring while learning at the same time too.
These subtraction practice worksheets are free to print and work great alongside the rest of your already current lesson plans for math for your kids in school this year. You can start by just adding one extra worksheet a day to their math lesson plans for that little bit of extra practice time.
There are seventeen pages in total that complete this free printable pack of subtraction practice worksheet pages. These seventeen pages focus on subtracting within numbers one through ten.
This is great extra practice for your kids who might show that they struggle a little with learning and understanding the concept of subtraction.
Check out these links below for more free printable math worksheets.
The following two tabs change content below.
Latest posts by Isa Fernandez (see all)