The solar system can be such a fun subject to study. Use this spiral galaxy science activity to demonstrate how a galaxy takes its shape.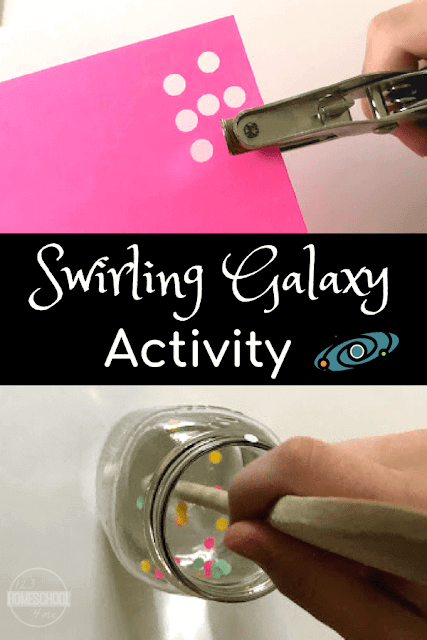 The vastness of space and the sheer size of the planets can make us feel very small. How amazing to think that the God who created all of that also created each one of us.
We can use a telescope to glimpse the reach of our own galaxy, the Milky Way. This activity will give an idea of how the Milky Way galaxy is shaped.
You'll need a jar, water, colored paper, a hole punch, and a wooden spoon.
Fill your jar up two-thirds of the way with water. Use the hole punch to make 20-25 holes in the paper.
The tiny circles will represent your planets, stars, and space dust. Sprinkle them on top of the water and allow them to float on the surface.
Use the handle of the wooden spoon to slowly stir the water and paper circles. Watch as the circles float toward the outer edges, and stir until you see a spiral pattern.
Find more outer space activities and crafts for your science unit studies.
The following two tabs change content below.
Jeannette is a wife, mother and homeschooling mom. She has been mightily, saved by grace and is grateful for God's sovereignty throughout her life's journey. She has a Bachelor in English Education and her MBA. Jeannette is bi-lingual and currently lives in the Tongan Islands of the South Pacific. She posts daily freebies for homeschoolers!
Latest posts by Jeannette Tuionetoa (see all)