This great free printable learning colors in Spanish worksheet pack will be great for using to teach your kids in school this year.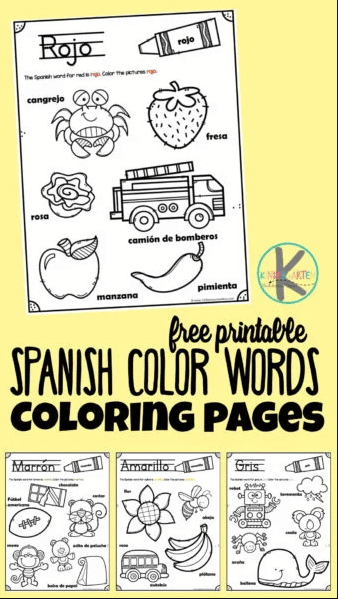 The best time to learn new things is when you're young because your brain is better at learning, comprehending, and retaining new information as opposed to when you're older.
Teaching kids new and multiple languages while they're young is super helpful for multiple reasons, and if they keep practicing these languages they can come in handy in their adult years too.
Learning and knowing multiple different languages is important when traveling to different places, can help you get jobs easier than another person, and is overall nice and helpful to know in general too.
This free printable pack of worksheets helps teach kids how to say and spell different colors in Spanish and makes learning fun too.
On crayons a lot of times they have the name of the color on the wrapper in English and other languages too which helps when coloring these free printable Spanish learning color worksheets.
This free printable pack of Spanish worksheets works great for teaching kids of multiple different grade levels so you can have fun teaching multiple kids at the same time together.
Check out these links below for more free printable Spanish learning worksheets.
CLICK HERE for hundreds of free homeschool printables
The following two tabs change content below.
Latest posts by Isa Fernandez (see all)