If you and your student are studying how to speak Spanish, then these fun and free printable Spanish greetings worksheets are just the perfect thing for you to be able to use.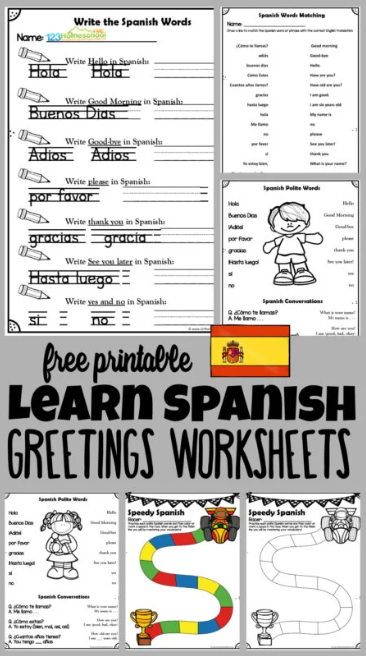 Learning new languages in school is super fun and exciting. Make learning how to speak and understand Spanish easy with these reliable helpful free printable Spanish greetings learning activity worksheets for kids.
These specific Spanish greetings worksheets are specifically designed to be for kindergarten through elementary grades levels for your younger students to be able to practice a new language being able to speak it and understand it.
This free printable pack of Spanish greetings worksheets includes common greeting phrases, commonly asked questions, and polite word phrases.
Knowing how to speak multiple languages comes in handy when traveling to different places and countries, lots of different places speak Spanish as well as English.
It's great for a kid to know how to speak multiple languages very well. It's something that when you learn as a young child and keep practicing continuously it's easier to remember in your adult years too.
Knowing how to speak more than just one language also helps when your kids grow up and are old enough to get jobs. Jobs are more likely to hire candidates who are able to speak more than one language, and in some areas it's required.
Check out these links below for more free printable Spanish learning worksheets.
The following two tabs change content below.
Latest posts by Isa Fernandez (see all)