If there's fun involved, you can almost always get a kid to participate. Use this silly sentence writing activity for some giggle-inducing practice time.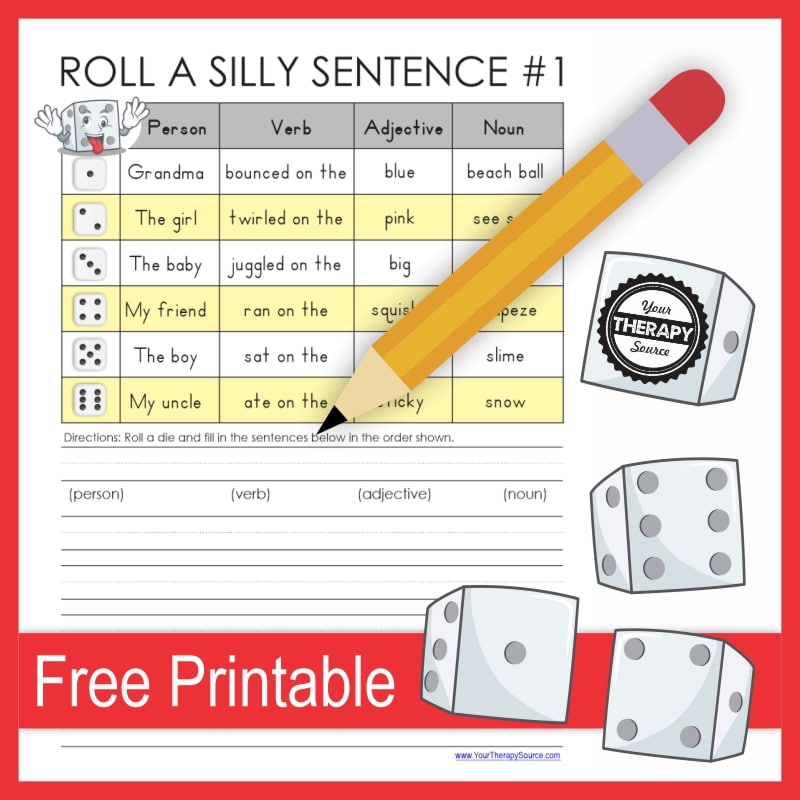 When learning is fun, kids will engage more and will usually remember more information.
Some of our best homeschool memories are from moments during silly writing activities. Since the first assignment that provoked insane laughter, they have begged for crazy prompts.
If it gets them writing and using their imagination, they can laugh as much as they like!
This hilarious writing activity has built-in phrases. You only need a pencil and one die.
To start your first sentence, roll the die.
Find the number on the page and the part of the sentence that goes with it. Write the words on the first line.
Roll the die again to see what part of the sentence will come next. Write those words next to the first ones.
Continue rolling and writing until your sentence is complete.
Read your sentence aloud and see what silly things are created!
As your child discovers each sentence part, discuss the parts of speech that are indicated.
Grab more silly writing games and activities below: 
CLICK HERE for hundreds of free homeschool printables
Be sure to follow the Free Homeschool Printables and Worksheets board on Pinterest!
Be sure to follow the Free Homeschool Printables and Worksheets board on Pinterest!
The following two tabs change content below.
Jeannette is a wife, mother and homeschooling mom. She has been mightily, saved by grace and is grateful for God's sovereignty throughout her life's journey. She has a Bachelor in English Education and her MBA. Jeannette is bi-lingual and currently lives in the Tongan Islands of the South Pacific. She posts daily freebies for homeschoolers!
Latest posts by Jeannette Tuionetoa (see all)