Use this free to print super fun short vowel learning game to make teaching fun and exciting for teacher and student involved.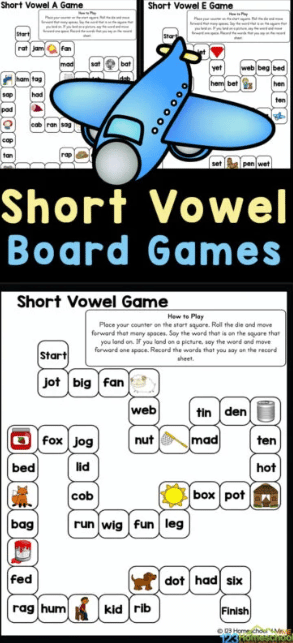 This is a great free to print add on to any kind of current grammar study lesson plans that you may already have going on in school this year in place for your kids learning and/or reviewing short vowels and their sounds.
Make learning fun and easy for your kids by introducing them to this fun and free to print short vowels board game that you can easily download and print and add to your school lesson plans. It works great for teaching at home, or teaching a larger classroom full of students who are all learning at the same time together.
Students in preschool through elementary grades will definitely appreciate you downloading and printing out this very awesome short vowel themed board game to use for making learning fun.
Kids can also have fun coloring this short vowel board game with their favorite colored crayons, markers, colored pencils, or whatever they prefer using for coloring and decorating as they please and see fit.
This short vowel fun and free to print board game requires little to no preparation while leaving no mess behind to clean up later which is what makes it perfectly easy to enjoy!
Check out these links below for more free printable vowel learning activities.
The following two tabs change content below.
Latest posts by Isa Fernandez (see all)