This super helpful, fun, and free printable short vowel bingo game is a great way to get your kids excited to learn!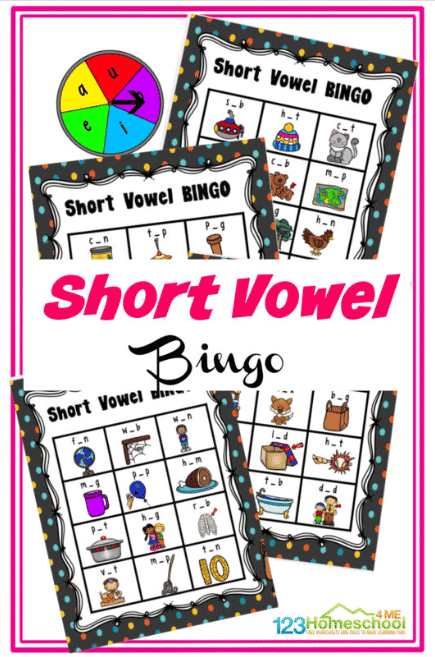 Kids love playing games, give them a fun and free printable game that they can use for learning too! Make learning more fun with the help of this awesome free printable short vowel bingo activity.
If you have a laminating machine that works well and is available to use then it is highly recommended to laminate the short vowel bingo board and pieces after printing and cutting them out so that way your game has better and long lasting durability.
When kids have fun while they are learning new things they are more likely to remember what they have learned because they are engaged and show a personal interest in learning this new thing.
Your kindergartners and first graders will have so much fun while learning their short vowels sounds at the same time. Players will take turns with a spinner and then they have to say a short vowel sound that they land on. They'll look at the bingo board and use a game marker to cover up the word that has the short vowel sound.
Check out these links below for more free printable bingo learning activities.
CLICK HERE for hundreds of free homeschool printables
Be sure to follow the Free Homeschool Printables and Worksheets board on Pinterest!
The following two tabs change content below.
Latest posts by Isa Fernandez (see all)