This is a special guest post series by my friend Holly of iGoBOGO, When You Rise Up, and Food Allergy Cooking.  
You can read the other posts in this series here:
Saving Money on Groceries for Busy Homeschool Families 
and  How to Stockpile Groceries.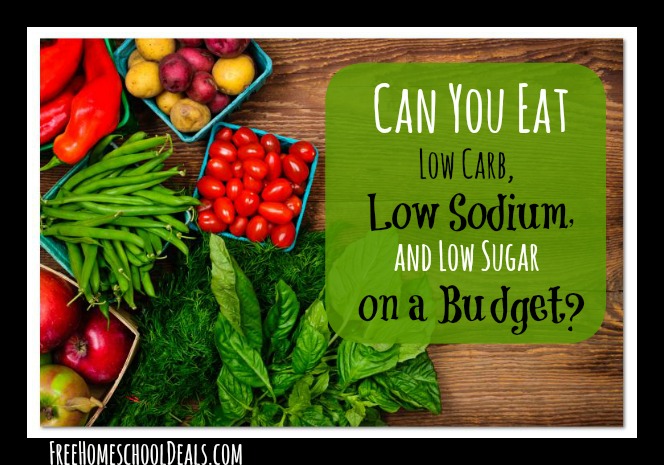 We've been talking this month about saving money on groceries, stockpiling, etc, and Free Homeschool Deals reader Nancy has a GREAT question.
I wonder if you have any tips for going low carb, low sodium, and low sugar?
This topic is near and dear to me because several in my family have special dietary needs. My husband and I are trying to eat low-carb right now, and two of my little ones have severe food allergies. In addition to that we, as a family, try to avoid highly processed foods and things like high fructose corn syrup.
So, how does that translate to couponing and stockpiling?
Everyone knows that if you are a frequent couponer you must have Hamburger Helper and mustard for dinner each night washed down with a Capri Sun pouch, right?
Not. at. all.
Now, if that's what you are feeding your family then you surely won't hear any complaints from me. I believe that God gave us each our own families to feed & take care of, and we are free to do so as we see fit. With that said, there are a few things you can do to help save money while trying to eat a special diet whether it's a healthy, sugar free, low-carb or some other type of diet.
Keep a Price List of Frequently Purchased Items
You might have your favorite Gluten-Free Bread, or Egg Free Freezer Waffles, or Dairy free Ice Cream or whatever special boxed/processed foods your family has to have vs. the one that's always on sale each week. Make a list of those items with their regular prices. If you see a sale on these items you'll be able to check your price list to see if they are truly a good deal or not.
Purchase Items in Bulk
It doesn't really do you any good to stock up on 10 boxes of rice for a quarter each if your family doesn't eat it. If there's something that you are particular about and use a lot of buy it in bulk from Sams, Costco, or Amazon. We get our favorite Peanut Butter Alternative from Amazon and things like brown rice, organic sugar, and olive oil at Costco, and spend much less per unit than if we bought a smaller pack as needed.
Buy Extra Meat When On Sale
While on a low-carb diet it's really difficult to save because meat is so expensive. It's also expensive if you eat only organic or grass fed meat, for example. If you find a great deal on meat you should always grab an extra pack or 2 for later.
Cook in Bulk
If you are on a special diet it's an absolute necessity that you do this in order to save money on your food budget. For example, 1 box of Cascadian Farms Vanilla Chip Granola bars(nut free) are around $4. Did you see that there are only 6 bars??!!?? I can make a big batch of homemade granola bars, spend about the same amount of money, and have a lot left over.
You can do this with any special dietary needs – no sugar, sugar substitute, gluten free, etc. Just do a google search for the recipe you want to make. Once A Month Mom has some great recipes that freeze well as well as full menus that you can make ahead and freeze.
Use Coupons
One of the biggest reasons people have for not wanting to use coupons is that they only ever see coupons and deals on junk food or foods they can't eat. Sure there are an abundance of those types of coupons and deals, but there are also plenty of deals and coupons for the foods you eat. I encourage you to look through the coupon matchups for your stores, and look for deals on the foods you need.
Another way couponing can help save you money while on a special diet is by helping you save on non-grocery items like toiletries, etc. That way you can afford to spend more on the food you need.
What about you?
Do you have any questions, concerns, or tips for saving money on groceries? Please post it in the comments. Who knows..maybe your comment will end up in a blog post.

Holly is a Christian, homeschooler, blogger, coffee lover. She is wife to 1 awesome hunk & 6 little kiddos call her mommy. Oh, and she love to help people save money! You can find her online atiGoBOGO, When You Rise Up, and Food Allergy Cooking.
The following two tabs change content below.
We are here to help families afford the homeschool life by providing the BEST homeschool freebies, deals, resources we can find & encouragement as we walk this journey together!
Latest posts by Free Homeschool Deals (see all)