How to Stockpile Groceries
This is a special guest post series by my friend Holly of iGoBOGO, When You Rise Up, and Food Allergy Cooking.  
You can read her first post  Saving Money on Groceries for Busy Homeschool Families here.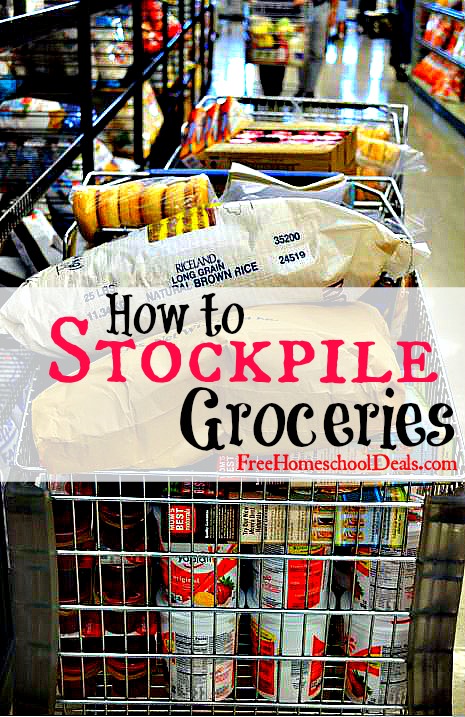 Proverbs 6: 6-9 Go to the ant, O sluggard; consider her ways, and be wise.

Without having any chief, officer, or ruler, she prepares her bread in summer and gathers her food in harvest.
We all know how important it is to have an emergency fund, right?  That doesn't mean you have one, but you know you need it.
Having a well stocked pantry is just as important. Your grocery stockpile can give you security in times of need. Whether that need is caused by lack of funds or lack of time to shop, a well stocked pantry can give you peace of mind.
A well stocked pantry WILL save you money! If you have a good stockpile of things your family eats you will be able to plan your meals from your pantry rather than the store. Another benefit of the well stocked pantry is that it helps cut down on on eating out costs – Big time!! If you have the fixins for a meal readily available you will be less tempted to call out for fast food.
Take an Inventory of Your Pantry
You'll need a baseline to get started. This will help you be more efficient in building your stockpile. Several times while completing this task I've found items that I had multiples of and had no idea.
You can download a Printable Pantry Inventory List here. This would make a GREAT homeschool project!
Once you have an inventory of everything in your pantry and freezer you can immediately begin saving money by planning a few meals from what's in your pantry vs. running to the store.
Organize Your Pantry
Having an organized pantry can definitely save you money. Have you ever bought something at the store only to find the same item in your pantry a week later? I sure have. Perhaps another homeschool project? Even the littlest ones can help with this task.
Organize it the best way that you see fit, but the main goal is that you can see what's low in stock at a glance.
Keep a running grocery list
This list will be different for each family. This is where you will put items that you are running low on. Don't wait until you're out of something to add it to the list. You want to have time to watch for a sale on the item rather than being forced to pay full price for something that you need immediately.
Watch the Sales Weekly for Items to Stockpile
Each week the stores will have loss leaders, BOGO deals, 10 for $10 deals, and other items at super low prices. These are the items that you are scanning for. If you can add a coupon to those low prices then even better. I offer coupon matchups for many popular stores like Walmart, Target, Publix, CVS, and more on my site iGoBOGO.
Remember though..Just because the store says "SALE", doesn't mean it's a good deal. You will want to have some idea of what things typically cost. This is where a Price chart comes in handy. A price chart is a list of things you regularly purchase with the typical prices listed. This is important because it tells you if something's really a good deal or not.
You can see my Printable Grocery Price Chart here.
Don't Be a Hoarder
Since this is a post about stockpiling I have to mention this. When I'm talking about building a stockpile I'm talking about a good supply of groceries and toiletries to last your family a few weeks. I'm NOT advising depleting every store within a 30 mile radius of their stock. If you already have 3 bottles of mustard, and your family only uses 1 every 3 months or so then don't go out and buy 24 more just because they are on sale for $1.00. 🙂
Excellent Books that will Save You Money
These are affiliate links which help support the work of this site. You can also find these books at most libraries for free!
America's Cheapest Family Gets You Right on the Money: Your Guide to Living Better, Spending Less, and Cashing in on Your Dreams
Cut Your Grocery Bill in Half with America's Cheapest Family: Includes So Many Innovative Strategies You Won't Have to Cut Coupons
Miserly Moms: Living Well on Less in a Tough Economy
What about you?
Do you have any questions, concerns, or tips for saving money on groceries? Please post it in the comments. Who knows..maybe your comment will end up in a blog post.

Holly is a Christian, homeschooler, blogger, coffee lover. She is wife to 1 awesome hunk & 6 little kiddos call her mommy. Oh, and she love to help people save money! You can find her online atiGoBOGO, When You Rise Up, and Food Allergy Cooking.
The following two tabs change content below.
We are here to help families afford the homeschool life by providing the BEST homeschool freebies, deals, resources we can find & encouragement as we walk this journey together!
Latest posts by Free Homeschool Deals (see all)