Enjoy these helpful, fun, and free printable cloud learning activity ideas for your kids to be able to use and love doing.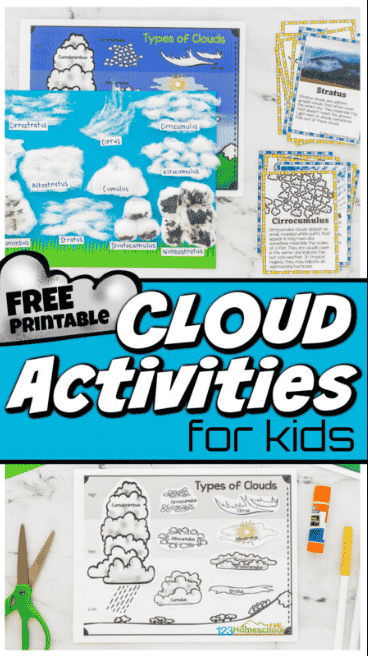 These fun and free printable cloud learning activity ideas are perfect for your students in preschool through elementary aged grades to be able to do for fun.
Easily add these super helpful free printable cloud learning activity ideas to be apart of your current weather science study lesson plans for teaching your kids either from being in the comfort of your own home, or to use in a classroom setting at school for a bunch of kids who are all learning together at the same time.
Learn all about the many different types of clouds, what their names are, and what they mean when you see them in the sky. By the end of this cloud learning activity study your kids should be able to tell you more about clouds and even begin to predict the weather outside what is going to happen like if it's going to rain soon just by looking at the clouds.
Take a trip outside for a nature walk after doing these fun, free printable, and helpful clouds learning activities and ask your kids to try to identify what kinds of clouds they see. You can even keep a nature journal to record, draw, and color the kinds of clouds that they see every day with their correct scientific names.
Check out these links below for more free printable science pages.
The following two tabs change content below.
Latest posts by Isa Fernandez (see all)