These are the perfect free printable worksheets for teaching your kids all about the many different female science inventors we have had in our time. Learn about these women, their names, and the cool and useful things that they came up with in their lifetimes.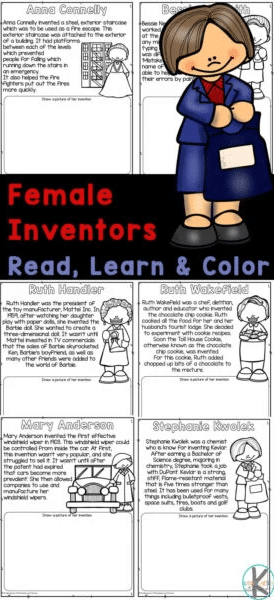 These pages print in black and white which lets your kids have fun picking out their favorite colored crayons, markers, and colored pencils to use for coloring and decorating the pages after reading and learning about these famous female science inventors.
They're the perfect low preparation mess free worksheets that you can easily print and take with you anywhere you would like to go. You can easily use these worksheets for teaching your kids from being in the comfort and privacy of your own home, or you can use these worksheets for teaching a classroom full of children together.
Take turns learning about twelve different female science inventors which are included in this free printable worksheet pack for your kids. Included with this free printable pack are lessons about Anna Connelly, Josephine Cochrane, Mary Anderson, and more just to name a few.
At the bottom of the pages after learning about these women, their stories, and what they invented, your kids get to challenge themselves by drawing a picture of the inventions that they just learned about.
Check out these links below for more free printable coloring pages.
The following two tabs change content below.
Latest posts by Isa Fernandez (see all)