Do your kids love studying nature? Enjoy these fun and free pine tree printable science activity worksheets for kids.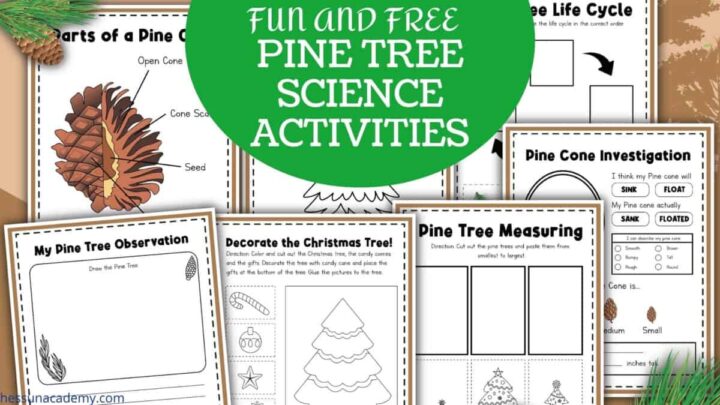 Learn all about the science behind pine trees with these fun and free science activity worksheets for kids. Perfect to print to use at home but also works well in a classroom for kids.
See what the inside of a pine cone looks like with these fun and educational science activities for kids. Learn about the life cycle of a pine tree from seed germination, to growth, maturity, and dormancy.
Follow directions on the pages to draw pictures and write down pine tree observations and measurements. Learn the names to all the parts of a pine cone and where they are. Find out the definitions of pine cone parts like bark, roots, needles, branches and more.
Have fun with this science experiment where you put pine cones in hot and cold water and observe how they open and close on their own. Make note of your science experiment observations with these free printable worksheets.
Find out the many different uses we have for pine trees. Pine needles can be turned into tea and bark can be used for coughs, colds, aches and pains.
Looking for more fun free nature science activities for kids? Check out these links!
The following two tabs change content below.
Latest posts by Isa Fernandez (see all)