This is what most of us homeschoolers love when the weather starts getting better, heading outdoors. Grab these free nature walk worksheets and activities to make the very most out of your outdoor strolls with the kids.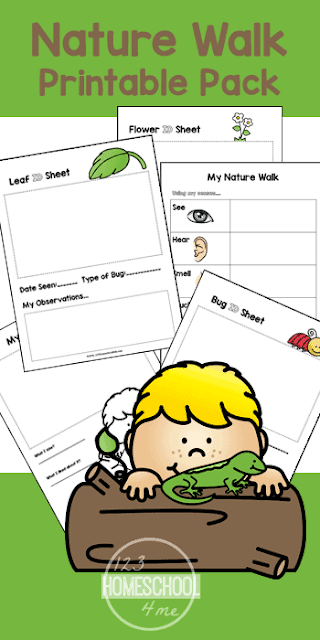 Walking is very healthy for us, both physically and mentally. Walking with our children not only will be a healthy way for them to have fun but it also creates lasting memories.
My kids tend to bring up memories of the walking adventures we had when first moving to an island. It was a big change from city life and they remember those precious memories of change.
The kids compared our city park walks to the beach walks. How beautiful is God's creation!
With homeschooling, it is astonishing just how much we can get out of what is seemingly a simple act. Many take it for granted.
Yet, homeschoolers know to maximize learning potential in all things – especially nature walks. With these no prep printables, your homeschool will have seven activities to have total learning fun with.
So, take these printables to explore foundation science, stewardship over the earth, and encourage a child's curiosity.
Check out more free resources for a great nature studies this year to go alongside your free nature walk worksheets:
The following two tabs change content below.
Jeannette is a wife, mother and homeschooling mom. She has been mightily, saved by grace and is grateful for God's sovereignty throughout her life's journey. She has a Bachelor in English Education and her MBA. Jeannette is bi-lingual and currently lives in the Tongan Islands of the South Pacific. She posts daily freebies for homeschoolers!
Latest posts by Jeannette Tuionetoa (see all)