Have fun learning, playing, and practicing with these free to print phases of the moon themed fine motor mats for your students in preschool and above.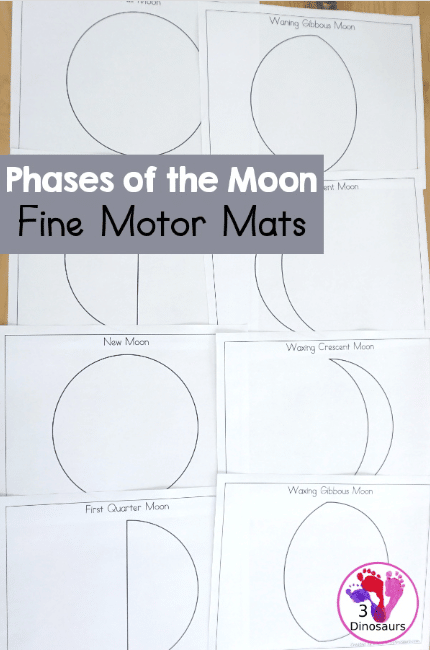 This is a fun and free to print phases of the moon themed pack of fine motor mats that are perfect for keeping your kids busy, entertained, and occupied while in a school classroom or for staying at home. Since this activity works perfectly for kids of multiple ages and grade levels that makes it perfect for siblings and friends to be able to share with each other despite possible age gaps.
If you have a laminator machine available to use that works well it's best recommended to laminate these excellent phases of the moon fine motor mats so that they can have better long lasting durability for multiple repeated future uses.
This is a fun learning activity that you can use at any time of the year. You can use this fun and free to print moon phases activity to journal about the phases of the moon which is perfect for learning about the moon and studying and practicing.
There are four main cycles of the moon to study, learn, practice for your kids to have fun with such as the New Moon, First Quarter, Full Moon, and Last Quarter. They'll be able to learn to identify and memorize the difference between the four with this free printable pack of moon phase mats.
Check out these links below for more free printable mats.
The following two tabs change content below.
Latest posts by Isa Fernandez (see all)