Help keep your kids busy, entertained, and occupied with these super fun and free to print jungle animal themed playdough mats that you can do from the comfort of your own home or anywhere else that works best for you!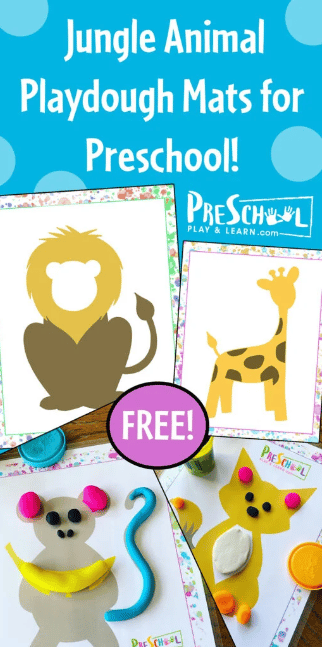 Kids love playing with playdough, it's good for soothing them, color recognition practice, and using their hands while getting to keep them off using screens so much.
Have fun using these jungle animal themed playdough mats for making playtime that much more exciting for everyone involved!
Playdough mats are great for kids and students in preschool yes, but there really is no age limit as to who is able to play and enjoy having fun with playdough. You're never too old to have fun with playdough. It's super easy to set your kids up with to keep them having fun for hours!
If you have a laminating machine available to use it's best recommended that you use it on these jungle animal themed playdough mats just for the extra support and durability, the playdough won't stick as easy to the pages and they can last a much longer time for future repeated uses which makes it the best free printable activity for your kids to enjoy having.
Check out these links below for more free printable mats to choose from for your kids.
The following two tabs change content below.
Latest posts by Isa Fernandez (see all)