Learn about the different parts of a book with this fun and free printable worksheet pack for your students to be able to use.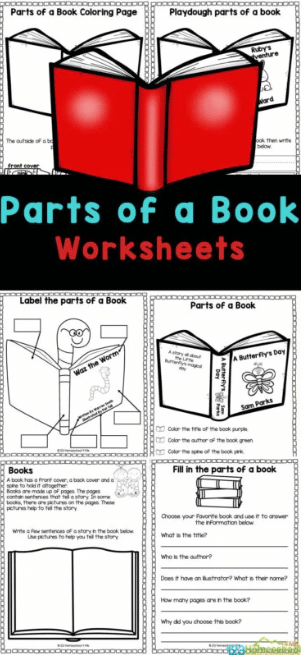 Easily download and print out these free printable parts of a book worksheets to be able to give to your kids to enjoy for coloring and learning.
Make learning fun at the same time for your kids with these parts of a book worksheet pages that you can easily download and print to be able to add to your current study lesson plans in school for your kids of multiple ages to be able to use.
In addition to coloring and learning about different parts of a worksheet your kids will have chances to write down answers to questions about their personal favorite books.
Some of the coloring pages have special instructions to be able to help your children practice being able to follow directions so pay attention to the pages that you give them.
Since kids of multiple ages can easily enjoy this kind of free printable learning activity it makes it the perfect printable activity to be able to give to your kids to be able to do together with their siblings or with their friends despite possible age gaps.
Check out these links below for more free printable reading worksheets.
The following two tabs change content below.
Latest posts by Isa Fernandez (see all)