Have fun using these really cool dragon themed reading logs to encourage your students to read more and have fun while doing it too.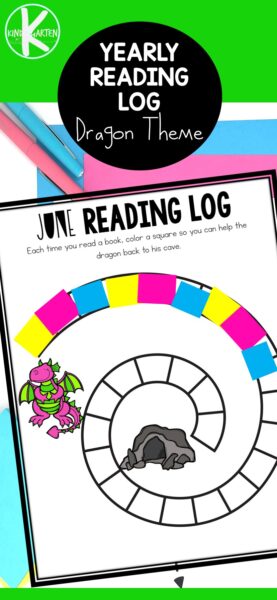 Included with this free printable dragon themed reading log page pack are reading logs for each month of the year so that your students can stay encouraged on their reading habits for the whole year.
These fun and free dragon themed reading log pages are just perfect for your students in pre-k through second grade who are learning how to read and struggle with keeping up with practicing good reading habits every day.
All that you will need to be able to enjoy this fun and free dragon themed reading log pages are printer paper, a printer machine, scissors, a laminator, crayons or draw erase markers, and dot stickers or something to mark your spot with.
You can easily download and print this dragon themed reading log page pack for free for your children to be able to practice good reading habits either from being in the comfort of their own home or using together in a classroom full of students.
Kids will look forward to being able to color and shade in these dragon themed reading log page every time they get more reading done. It's like a fun to-do check list for your students to help them keep track and encourage them to read more.
Check out these links below for more free printable reading pages.
The following two tabs change content below.
Latest posts by Isa Fernandez (see all)