Use these easy to download and free to print number fourteen worksheets to help your little ones learning to count and recognize their numbers in school this year.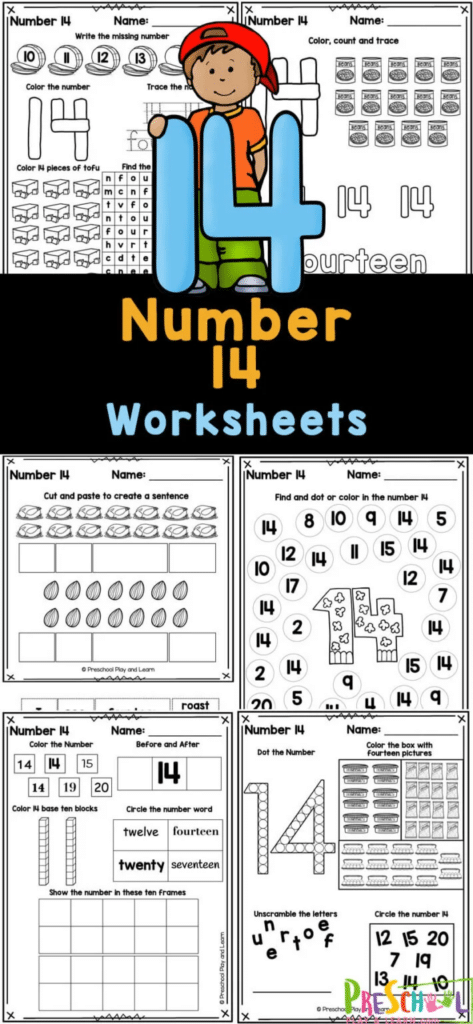 Perfect for students in preschool, pre-k, and kindergarten, these number fourteen learning activity worksheets are absolutely perfect for making learning fun and exciting instead of intimidating or boring.
Making learning easier and more fun for kids will help them stay engaged and excited and increase better chances of them remembering and retaining all it is that they've learned in school.
There are plenty of different types of learning activities included with this fun and free printable pack of number 14 worksheet pages for your kids to use along with their current study lesson plans for going through learning all of their numbers. You can find worksheets similar to these online for free and make a whole folder full of them to use as extra practice or for review purposes.
There's also a spot at the top of each page for kids to write their names down just in case you're using these worksheets for multiple kids at the same time it becomes easier to keep track of who did what work. This comes in handy for teaching siblings at home or a large classroom full of students who are all learning at the same time.
Check out these links below for more free printable number worksheets.
The following two tabs change content below.
Latest posts by Isa Fernandez (see all)