Combine learning sight words and parts of speech with these noun sight word worksheets.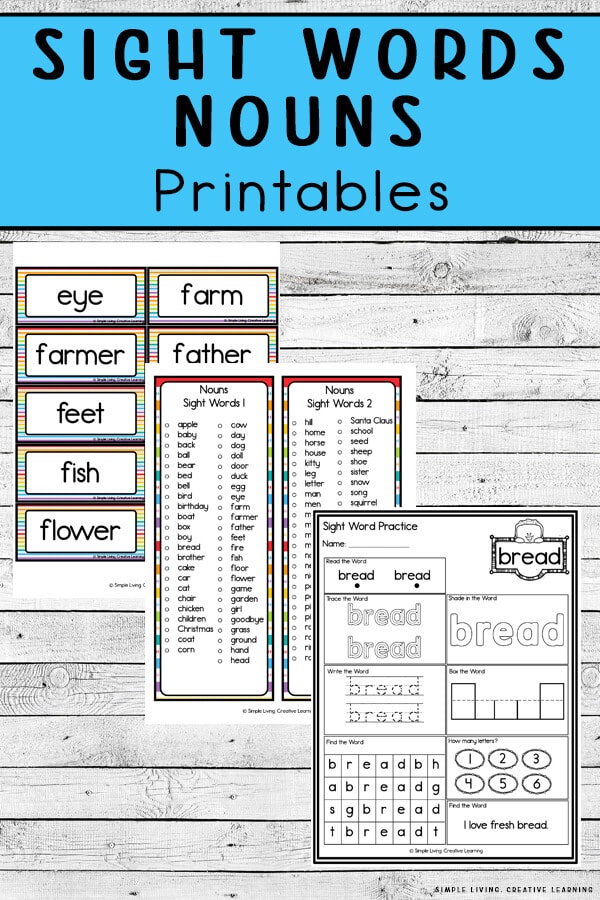 Nouns are learning the basic building blocks for language. They are words that represent people, places, things, and ideas.
When learning about parts of speech, we usually begin with nouns. It makes sense, as the concept of nouns is the least complex of all the parts of speech.
By a certain age, kids have no trouble pointing out objects all around them. This is when they are ready to learn about nouns!
This huge set of worksheets will help your child recognize sight words that are also nouns.
Flashcards are included for the entire list of ninety-five words. Use these for drills, games, and copywork.
There are two bookmarks that include the word list also. These can be used for review and assessing where your child needs improvement.
The next section is a large collection of worksheets. Each sheet features one sight word per page for a total of ninety-five pages.
Your child will have several activities to complete on each page. They will read, trace, search, and complete several other tasks.
Grab more sight word worksheets below:
CLICK HERE for hundreds of free homeschool printables
Be sure to follow the Free Homeschool Printables and Worksheets board on Pinterest!
The following two tabs change content below.
Jeannette is a wife, mother and homeschooling mom. She has been mightily, saved by grace and is grateful for God's sovereignty throughout her life's journey. She has a Bachelor in English Education and her MBA. Jeannette is bi-lingual and currently lives in the Tongan Islands of the South Pacific. She posts daily freebies for homeschoolers!
Latest posts by Jeannette Tuionetoa (see all)