Have fun while teaching your kids all about photosynthesis with this helpful free printable science unit study.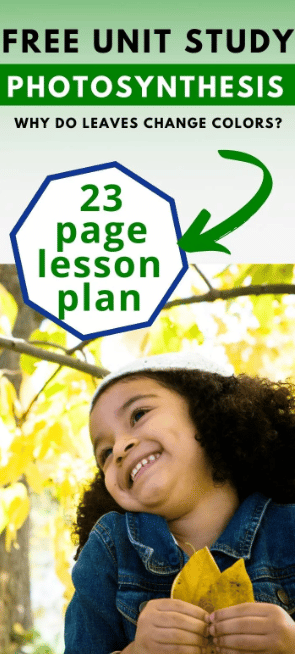 Your students will get to have so much fun while be able to learn at the same time about photosynthesis with this helpful free printable unit study that you can easily download to print out and use to be apart of your current study lesson plans.
This is a super easy unit study to be able to use to add to your school this year learning about science and plants. Find out how and why leaves change colors and more.
This free printable pack includes 23 pages for learning about photosynthesis.
The changing colors of leaves is a slow process that starts in the summer time and prepares the leaves for the fall season when leaves look red and orange colored.
Learn about photosynthesis being the process of plants converting sunlight to energy with the help of two pigment molecules known as chlorophyll and carotenes, each one producing different colors in the leaves.
This link also includes various children's book suggestions for furthermore learning and teaching about photosynthesis.
Enjoy free printable leaf cut out crafts for having even more fun while learning at the same time for your students.
Check out these links below for more free printable science worksheets.
The following two tabs change content below.
Latest posts by Isa Fernandez (see all)