Combining multiple skills into one activity is great for developing complex thinking. This kindergarten pirate sorting activity combines sorting and addition into one activity.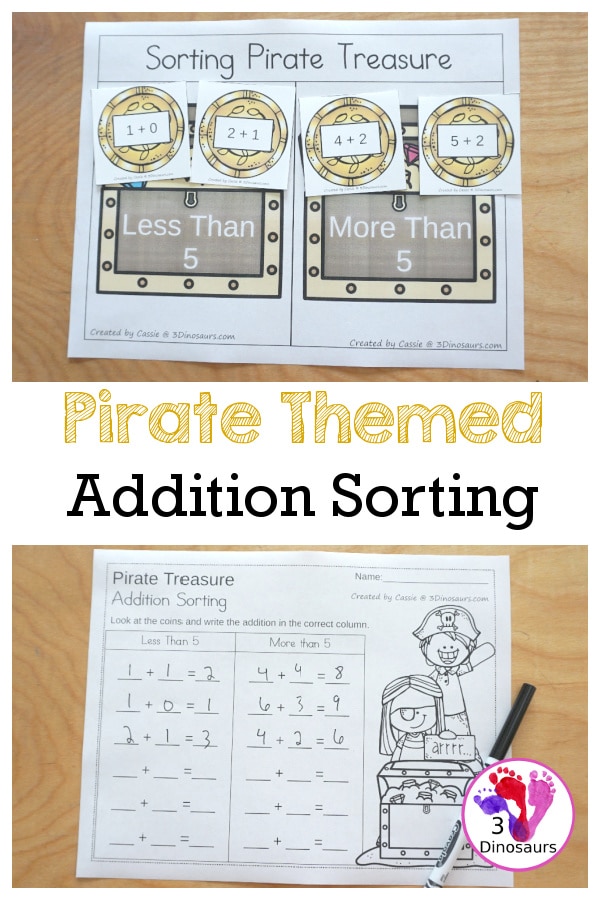 Sorting activities teach children to recognize differences and to group like items together. This
Addition facts are necessary to be able to master more advanced math levels. Future concepts such as skip counting, multiplication, and fractions all use addition.
If your child is ready for addition fact practice, they will enjoy this pirate sorting activity.
You will start by printing out all the pages. There are four pages that include a sorting mat, a recording sheet, and two pages of coins.
Each coin is printed with an addition problem.
Invite your child to choose a coin and solve the equation.
Once they identify the sum, they will determine whether it is more or less than five.
Next, the coin will be placed on the sorting mat. Two chests are marked more than or less than five and the coin is placed on one.
Continue until all of the equations are solved and the coins are sorted.
Grab more addition games and activities below:
CLICK HERE for hundreds of free homeschool printables
Be sure to follow the Free Homeschool Printables and Worksheets board on Pinterest!
Be sure to follow the Free Homeschool Printables and Worksheets board on Pinterest!
The following two tabs change content below.
Jeannette is a wife, mother and homeschooling mom. She has been mightily, saved by grace and is grateful for God's sovereignty throughout her life's journey. She has a Bachelor in English Education and her MBA. Jeannette is bi-lingual and currently lives in the Tongan Islands of the South Pacific. She posts daily freebies for homeschoolers!
Latest posts by Jeannette Tuionetoa (see all)