Take a look at this wonderful free printable kindergarten themed daily calendar to use to keep your school year organized.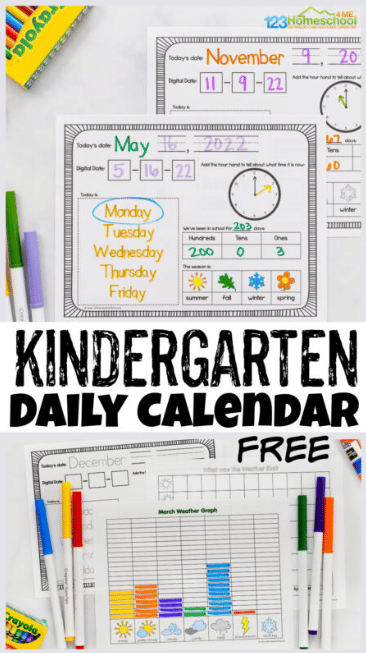 The best way to be able to use this free printable kindergarten daily calendar is to use a laminating machine if you have one available that works so that you can reuse this printable over and over again with draw erase markers and hang on your refrigerator with magnets.
Show your children how to use a daily calendar too so that at a young age they can start learning responsible traits for keeping track of what they have to do and it helps hold them accountable as well.
With this lovely free printable kindergarten daily calendar worksheet your students will be able to practice learning the day of the week, the month, time telling, the different seasons and weather, and sharpen counting skills. All of these things and more helps make this free printable kindergarten daily calendar the best for you and your students to use.
You can print out copies for your students and separate copies for yourself or print one copy to keep in the school room. Using a daily calendar that's free to print is great for keeping track of the things to do for the teacher and for the students as well.
Check out these links below for more free printable calendars.
The following two tabs change content below.
Latest posts by Isa Fernandez (see all)