Enjoy customizing and using this wonderful free to print month of June themed page that can help keep you better organized this month.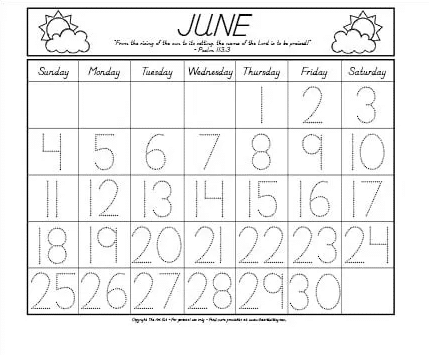 Use colorful crayons, markers, colored pens and pencils, and stickers to decorating this month of June themed calendar page that you can start using today for this year.
There are plenty of free to print calendar pages for the months of the year that you can find online to print out and share with the whole family or classroom however you see fit. This is a great way for teaching days of the week and months of the year to your younger children.
To teach your kids to keep track of the days you can have them mark off each day on this calendar as it passes. This is a wonderful printable to have to hang on your refrigerator or hang on your classroom wall.
Mind you this page really only works for the month of June for this year in particular because the numbers of the month are aligned with the days of the week already.
Use this super easy to download and free to print month of June themed calendar page as apart of family planning or school planning at home or in the classroom with kids and adults of all ages.
Check out these links below for more free printable calendar printables.
The following two tabs change content below.
Latest posts by Isa Fernandez (see all)