This free to print Bible verse page helps students learn and memorize the scripture John 3:16 which is great to add to family devotion time.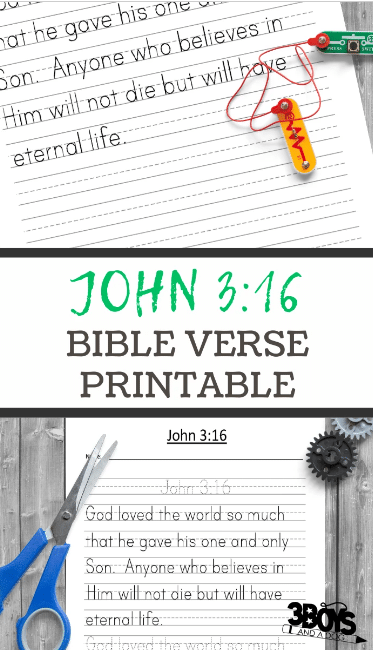 Use this helpful and free to print John 3:16 Bible verse page as copy work practice for children to work on their handwriting skills and penmanship abilities by repeatedly writing the Bible verse down. This is excellent to use in school or for family Bible devotion time.
It's never too early to start teaching your kids to memorize Bible verses and neat free to print pages like this are an excellent help.
This free to print Bible verse page includes the scripture John 3:16 written out for students to read or for you to read with your kids, then below that is the verse repeated again in dotted form for your kids to have the space to practice tracing the verse. Writing the verse out by tracing it helps with memorizing the Bible verse, as well as working on building better penmanship which makes this the perfect activity for young students.
You can choose to use whatever you'd like for writing whether it's regular pencils, colored pens, colored pencils, or if you want to draw and color the page too is up to you.
Check out these links below for more free printable Bible activities.
The following two tabs change content below.
Latest posts by Isa Fernandez (see all)