You and your kids are going to have so much fun together teaching and learning with these free printable Bible story themed coloring pages and notebooking journal pages.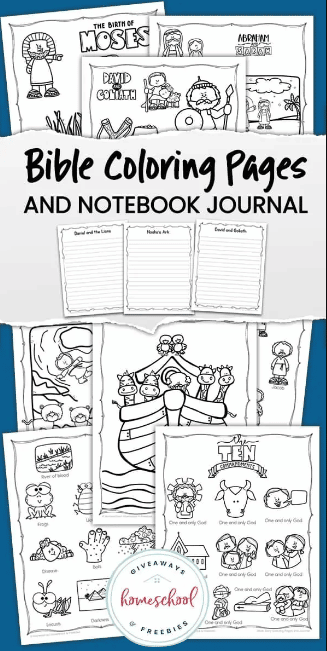 Get your favorite colored crayons, markers, colored pencils, and whatever else that you may have available and want to use to color and decorate these Bible story themed coloring pages.
There are also separate notebooking journal pages to give to your kids for note taking while learning about these Bible stories. Taking notes while learning is a great reading comprehension skill and shows that your child was really paying attention and took away from whatever they were learning about.
These are great coloring pages for the whole family to be able to use during family devotion time at home, or you can print them out to use them in a Sunday school setting at church maybe for a bunch of kids to be able to enjoy and have fun with together at the same time.
Use these fun and free pritnable Bible coloring pages and notebooking journal pages to learn all about David and Goliath, Daniel and the Lion's Den, Noah's Ark and more.
Check out these links below for more free printable Bible worksheet pages.
The following two tabs change content below.
Latest posts by Isa Fernandez (see all)