Take advantage of these free printable Jesus healing a blind man worksheet pages to use for teaching your kids one at a time or in a classroom setting while having fun at the same time.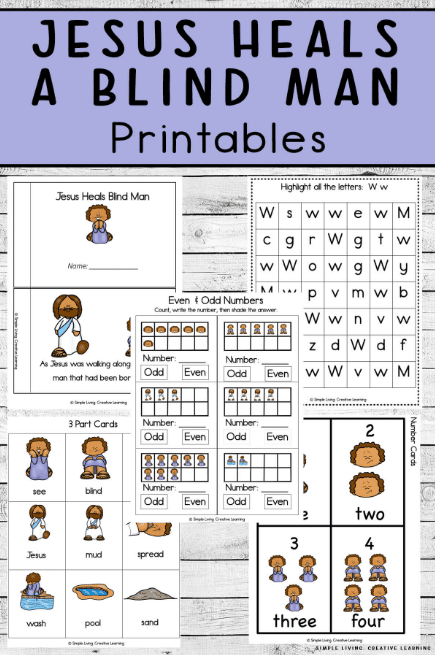 Teaching your children stories in the Bible is important and it's never been easier before. Use these great fun and free printable Jesus healing a blind man activity pages for your Bible study needs.
Whether you want to use these fun and free printable Jesus healing a blind man learning activity pages to add to be apart of your family devotions time, or if you're teaching a Bible study classroom full of students, these pages are going to be so easy to download and print out to use.
These Jesus healing a blind man printables are great to use for kids of all ages older and younger to learn and understand the great true story behind one of Jesus's popular miracles that He preformed in the Bible.
This fun and free pritnable Bible story activity pack of learning pages comes with a mini book that you can cut out put together and write your name on, number cards, 3-part cards, highlighting letters, even and odd number practice, and more for your kids to be able to learn, practice their school work, all with a Bible story theme.
Check out these links below for more free Bible printables.
The following two tabs change content below.
Latest posts by Isa Fernandez (see all)