If you need some new ideas for multiplication practice, look no further. These interactive multiplication activity mats are a fun and easy way to engage your child.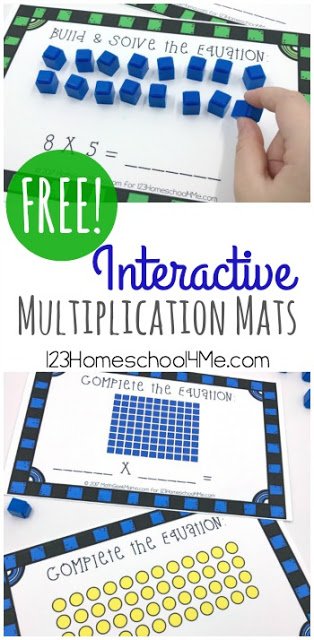 For some kids, multiplication is just plain hard. The only way to make it "click" is through lots of practice.
There are lots of worksheets and tutorials available for practicing. Sometimes what you need is an activity that helps your child view the concept differently.
This activity offers two perspectives for practicing multiplication.
In the first part of the activity, your child will view the number of squares. Encourage them to count the rows and columns, and then write the equation numbers in the blanks.
This portion of the activity helps your child visualize the numbers in the equation.
In the second part, your child will read the equation. Next, they will build the equation by drawing or using manipulatives.
During this part of the activity, your child builds on the visualization and creates a representation.
To use this activity, print the cards out. You may wish to laminate them so you can use dry-erase markers and reuse the cards.
Grab more free multiplication worksheets and activities below:
CLICK HERE for hundreds of free homeschool printables
Be sure to follow the Free Homeschool Printables and Worksheets board on Pinterest!
The following two tabs change content below.
Jeannette is a wife, mother and homeschooling mom. She has been mightily, saved by grace and is grateful for God's sovereignty throughout her life's journey. She has a Bachelor in English Education and her MBA. Jeannette is bi-lingual and currently lives in the Tongan Islands of the South Pacific. She posts daily freebies for homeschoolers!
Latest posts by Jeannette Tuionetoa (see all)