This is a special guest post series by my friend Holly of iGoBOGO, When You Rise Up, and Food Allergy Cooking.  
You can read the other posts in this series here:
Saving Money on Groceries for Busy Homeschool Families 
and Can You Eat Low Carb, Low Sodium, and Low Sugar on a Budget?
How to Stockpile with Drugstore Coupon Shopping
We've been talking about saving on groceries for a few weeks now, and one of the biggest ways to save on groceries is to shop the drugstore sales. Drugstores are a great place to stock up on things like razors, makeup, shampoo, toiletries, and even some groceries. You can literally get things for free or super cheap each week. If you are within a few miles of one of these stores I highly recommend adding a run each week to add to your stockpile.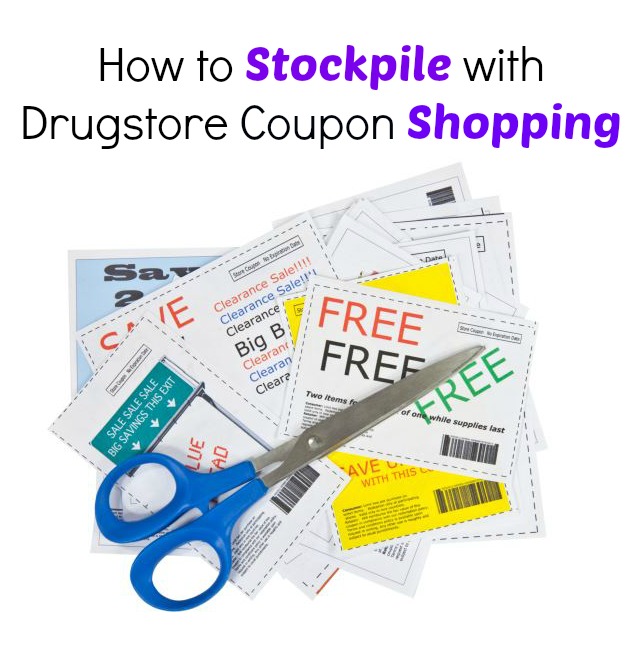 Pick a Store, Any Store
Well, not just any store, but the 3 big drugstores that have the best deals each week are Rite Aid, Walgreens, and CVS. Now, you can absolutely go from store to store each week grabbing the freebies and cheapies, but for many of us that's just not practical at all. With homeschooling, running a household, and the bazillion other things we're all involved in we barely have time to breath sometimes much less waste time and gas running around shopping, right? With that said, I encourage you to pick one store. Maybe choose the one that's closest to you or the most convenient.
Learn the Store's Coupon Policy
Once you've chosen the store you want to frequent you'll want to find out about their coupon policy and how their rewards system works. This is very important and will avoid time wasted at the register.
Start Small
I know you've probably seen people at the drugstore with all their coupons, 6 different transactions, and a buggy full of items they are getting for free. I'm just gonna come out and say it "Ain't no homeschooling mama got time for that"! No, really, If I'm in the store I probably have 3-6 kids with me and I'd likely either get kicked out of the store or run away crying if I tried to do more than 2 transactions. Children are not that patient and neither are other shoppers in line behind me.
Have your list prepared and coupons ready before you walk through the store's door. Stick to 1-2 transactions max, and you'll probably be in and out in 10 minutes.
Roll Those Rewards
If you're wondering now why in the world you'd want to do more than 1 transaction let me explain. Each of the stores I mentioned have some type of rewards system. There will be certain items on sale each week that will give rewards back after the purchase.
Here's an Example of "Rolling" Rewards at CVS:
Colgate Toothpaste is priced at $1.99 with $.99 in ExtraBucks Back when you buy 1.
Also, Oral-B Toothbrushes are on sale for $.99 with $.99 in Extra Bucks when you buy 1.
1st Transaction: Buy the Colgate Toothpaste, use a coupon for $1.00 off Colgate Toothpaste, Pay $.99 and Get $.99 in ExtraBucks Back.
2nd Transaction: Buy the Oral-B Toothbrushes for $.99, Use your previous ExtraBucks Reward to get it for free, then get another $.99 in ExtraBucks Back.
You now have spent $.99 out of pocket and have the toothpaste, toothbrushes, and $.99 in Extrabucks. Hold those for the next week to use in your first transaction.
As I mentioned last week rolling rewards is the KEY to maximizing your savings at the drugstores.
Add to your Stockpile Each Week
Once you get into the swing it's easy to maintain the system of adding to your stockpile with drugstore sales. All you have to do at that point is check the sales each week to see what the best deals will be. You can see the best deals for Walgreens, CVS, and Rite Aid along with coupon matchups here.
What about you?
Do you have any questions, concerns, or tips for saving money on groceries? Please post it in the comments. Who knows..maybe your comment will end up in a blog post.

Holly is a Christian, homeschooler, blogger, coffee lover. She is wife to 1 awesome hunk & 6 little kiddos call her mommy. Oh, and she love to help people save money! You can find her online at iGoBOGO, When You Rise Up, and Food Allergy Cooking.
The following two tabs change content below.
We are here to help families afford the homeschool life by providing the BEST homeschool freebies, deals, resources we can find & encouragement as we walk this journey together!
Latest posts by Free Homeschool Deals (see all)