Get ready to take flight with your little creative writer using this fun Hot Air Balloon Adventure Prompt.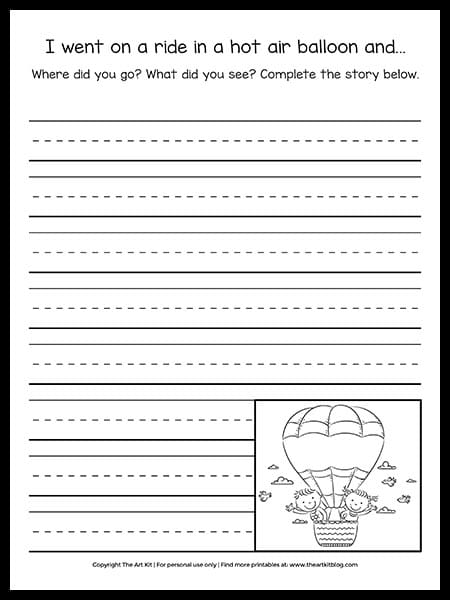 Sometimes all a good story needs to kick-start our imagination is a picture to draw inspiration from.
Have your child imagine they are floating up, up, and away, into the clouds, and then have them describe what they might see.
You may need to prompt with questions to help them along, but once they get going, just let their ideas flow and see where it carries them.
Inviting your child to color the picture first to add color and more detail might help with the creative process.
Younger children who are just learning to write might need you to write their words as they say them, but they can still dream up some interesting stories all on their own.
Grab more Creative Writing Prompts for your next writing exercise.
The following two tabs change content below.
Jeannette is a wife, mother and homeschooling mom. She has been mightily, saved by grace and is grateful for God's sovereignty throughout her life's journey. She has a Bachelor in English Education and her MBA. Jeannette is bi-lingual and currently lives in the Tongan Islands of the South Pacific. She posts daily freebies for homeschoolers!
Latest posts by Jeannette Tuionetoa (see all)