This is a post by Free Homeschool Deals contributor, Lauren Hill of Mama's Learning Corner.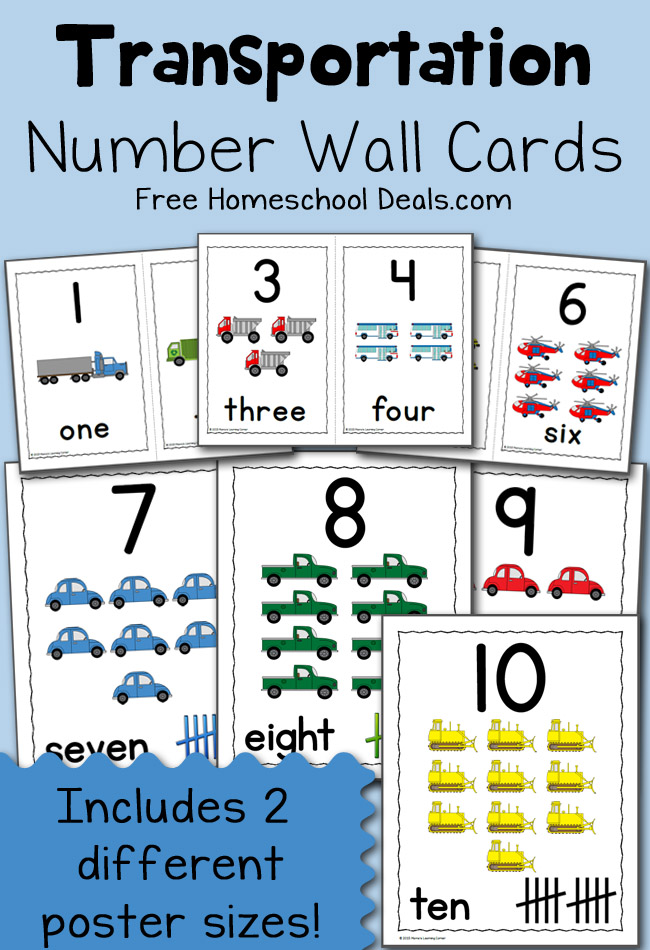 There are many preschool and early learning themes for the younger years. Now that I'm on my fourth preschooler, we've covered many of them in our homeschool.
A continued favorite with my children is transportation! I don't know what it is about cars, trucks, trains, and planes, but kiddos love it!
[pinnable image]
Transportation Number Wall Cards
This set of number wall cards has a fun transportation theme.
You'll find number cards 1 through 10 in both of the included sets.
The first wall card set includes 8.5 x 11″ size posters. Each poster contains the number, the corresponding amount of objects, the written number word, and the amount in tally marks.
The second wall set includes posters which are 4 x 5″ (half a sheet of copy paper). Each poster contains the same items as the larger size, but does not include the tally marks.
To use, simply print, laminate, and hang around your homeschool room. They'll be the perfect addition to your transportation week!
More Transportation Worksheets and Printables
♥ Transportation Puzzle Cards for Preschoolers
♥ Transportation Worksheets for Kindergarten and First Grade
♥ Transportation Printable Packet for Pre-K and Early Kindergarten
Before you download your free pack you agree to the following:
This set is for personal and classroom use only.
This printable set may not be sold, hosted, reproduced, or stored on any other website or electronic retrieval system.
All downloadable material provided on this blog is copyright protected.
CLICK HERE for more free instant downloads!
The following two tabs change content below.
Latest posts by Lauren Hill (see all)