FREE PRINTABLE 20 DAY SIBLING CHALLENGE
This is a post by Free Homeschool Deals contributor, Samantha at Lechaim on the Right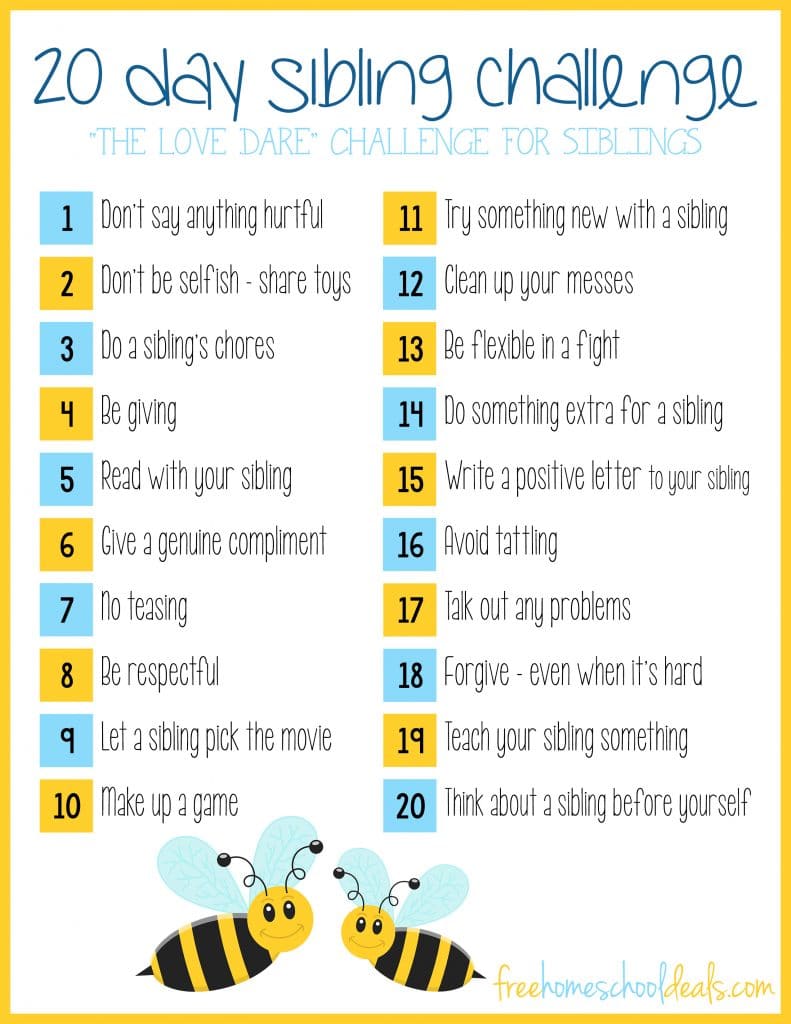 Siblings arguing is a constant battle we face everyday in our house! Inspired by The Love Dare for married couples, here is a free printable 20 Day Sibling Challenge; a twenty day challenge for sibling harmony.
Don't say anything hurtful
Don't be selfish – share toys
Do a sibling's chores
Be giving
Read with your sibling
Give a genuine compliment
No teasing
Be respectful
Let a sibling pick the movie
Make up a game
Try something new with a sibling
Clean up your messes
Be flexible in a fight
Do something extra for a sibling
Write a positive letter to your sibling
Avoid tattling
Talk out any problems
Forgive – even when it's hard
Teach your sibling something
Think about a sibling before yourself
Before you download your free pack you agree to the following:
This set is for personal and classroom use only.
This printable set may not be sold, hosted, reproduced, or stored on any other website or electronic retrieval system.
All downloadable material provided on this blog is copyright protected.
CLICK HERE for more free instant downloads!
The following two tabs change content below.
Samantha is a
teenage homeschooler
from Indiana, USA. Samantha is interested in WWII history, Israel, and politics. Her specialities are words, frugality, homeschooling, and procrastination. When not blogging, Samantha spends her time reading, exploring Photoshop, trying to speak Hebrew, and
wasting time on Pinterest
. You can also find her on
Facebook
and
Twitter
.
Latest posts by Samantha Emmanuel (see all)