This is a post by Free Homeschool Deals contributor, Samantha at Creative, Clever, & Classy.
Help teens use social media safely and effectively! Social media is a wide part of our life, and great privileges and opportunities come with great responsibilities. Use this contract to help teens make wise social media decisions that can help them later in life.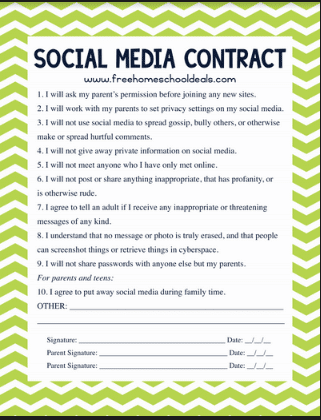 This social media contract says:
1. I will ask my parent's permission before joining any new sites.
2. I will work with my parents to set privacy settings on my social media.
3. I will not use social media to spread gossip, bully others, or otherwise make or spread hurtful comments.
4. I will not give away private information on social media.
5. I will not meet anyone who I have only met online.
6. I will not post or share anything inappropriate, that has profanity, or is otherwise rude.
7. I agree to tell an adult if I receive any inappropriate or threatening messages of any kind.
8. I understand that no message or photo is truly erased, and that people can screenshot things or retrieve things in cyberspace.
9. I will not share passwords with anyone else but my parents.
For parents and teens:
10. I agree to put away social media during family time.
There's also a space for you to add your own rules!
Before you download your free pack you agree to the following:
This set is for personal and classroom use only.
This printable set may not be sold, hosted, reproduced, or stored on any other website or electronic retrieval system.
All downloadable material provided on this blog is copyright protected.
CLICK HERE for more free instant downloads!
The following two tabs change content below.
Samantha is a
teenage homeschooler
from Indiana, USA. Samantha is interested in WWII history, Israel, and politics. Her specialities are words, frugality, homeschooling, and procrastination. When not blogging, Samantha spends her time reading, exploring Photoshop, trying to speak Hebrew, and
wasting time on Pinterest
. You can also find her on
Facebook
and
Twitter
.
Latest posts by Samantha Emmanuel (see all)