This is a great time to explore the growth and evolution of seedlings alongside these free plant life cycle worksheets.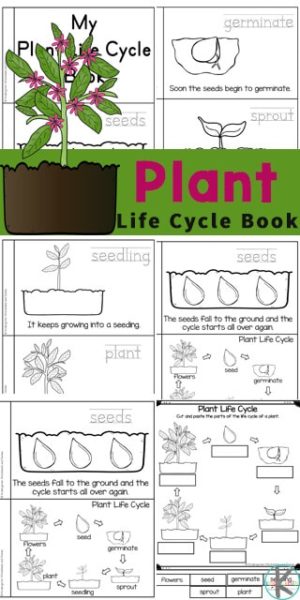 Growing plants in your home is a such a healthy thing for your environment. Kids enjoy learning about the life cycle of plants. From tiny seeds, to plants, and big trees your kids will learn all about the changes in this free reader.
This mini book on the plant life cycle provides five pages of no-prep information. The reader will get kids
thinking about the intentional purpose of the lifecycle and how how elements fit in perfectly.
For instance, elements like sunlight, wind, and water all play an essential part in a plants life cycle and they canʻ survive without all of these present.
Plants are actually pretty incredible parts of creation. Here are some cool facts my kids and I found regarding plants on the internet:
-90% pf the foods that we eat come from just 30 plant species in the world. There are 80,000 species of edible plants worldwide. (Yes, 80k edible plant species and we only eat 30 of them!)
-There are over 70,000 plant species that humans use for medicine.
-68% of plants are in danger of extinction.
They provide habitats for many insects and organisms, provide us with many different products like firewood, oils, rubber and more.
Most importantly, plants maintain the atmosphere that we live in. Plants produce oxygen and absorb carbon dioxide during photosynthesis.
Grab more plant free resources to add to your free plant life cycle worksheets.
The following two tabs change content below.
Jeannette is a wife, mother and homeschooling mom. She has been mightily, saved by grace and is grateful for God's sovereignty throughout her life's journey. She has a Bachelor in English Education and her MBA. Jeannette is bi-lingual and currently lives in the Tongan Islands of the South Pacific. She posts daily freebies for homeschoolers!
Latest posts by Jeannette Tuionetoa (see all)