This is a post by Free Homeschool Deals contributor, Lauren  from Mama's Learning Corner.
We are still in the long, cold days of winter, however, we are very ready for SPRING here at the Hill House!
Many of my children have the full-fledged flu, and others had a horrendous stomach bug. We can't wait for the healing weather that spring brings!
While dreaming of fresh, spring air, I decided to create a spring-themed counting booklet for your young ones.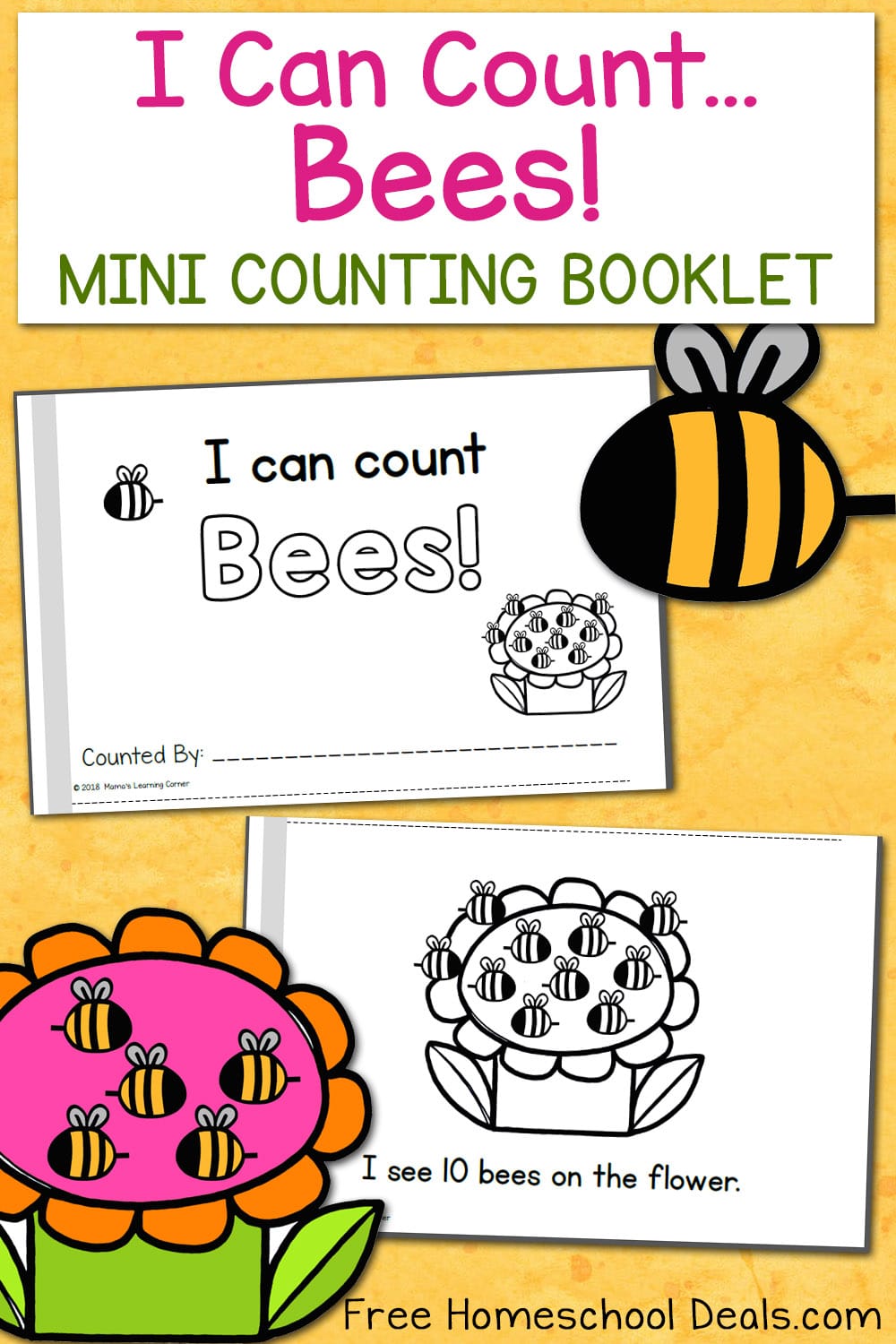 I Can Count … Bees! Counting Book
This counting booklet is for very early readers that still need quite a bit of picture clues and repetitive text.
After the cover page, each page "counts down" the bees on the flower until there are no bees left to count!
The pages are intentionally black and white so your child can color them if desired.
Assembly for this counting book is easy:
— After printing, simply cut the pages in half on the dotted line.
— The cover page goes first, of course, and the other pages go in order from ten down to zero.
— Staple down the gray line on the edge and read!
Before you download your free pack you agree to the following:
This set is for personal and classroom use only.
This printable set may not be sold, hosted, reproduced, or stored on any other website or electronic retrieval system.
All downloadable material provided on this blog is copyright protected.
Learn About Bees!
Browse through our favorite books about bees. I've only listed the best ones that your young learners will love! Reserve them at your library today.
Download a bee life cycle worksheet set. Create a bee mini-booklet, learn bee vocabulary, and identify parts of the bee.
Plan your bee unit study using this variety of resources! Find videos, books, printables, activities, and more.
Enjoy studying about bees with your young ones!
CLICK HERE for more free instant downloads!
The following two tabs change content below.
Latest posts by Lauren Hill (see all)